There are people who see beauty in the world, and there are people who make beauty in the world. Cristina Martinez, founder of VeryThat and all-around badass Chicana, does both. I first met Martinez in early 2014 at an art market on South Flores Street. Among a crowd of crafty vendors selling everything from artisanal lip balm to locally sourced honey, Martinez stood out. The space she and her wares filled was colorful, welcoming and Mexican. There was something different about the art she was making: a funky mix of handcrafted ceramic tiles bearing glossy images of drag queens, Selena, Frida Kahlo and so many familiar cultural dichos ("échale ganas, mija" was my personal favorite). When I asked her how I was supposed to use the tiles (Was it a coaster? Should I hang it on the wall?), she tilted her head and told me they could be whatever I wanted them to be. To this day, one of her tiles is placed above the sink in my guest bathroom, offering up a friendly reminder to anyone who passes through: "Please don't do coke in the bathroom." She wasn't pretentious or eager to sell for the sake of making a sale. She just wanted to share a part of who she was with the world, and she stuck with me.
Martinez recently took time to chat with me about her work, her inspiration and the celebration of being chingona.   
Tell us a little about yourself and how you came to begin your work.
I'm from the Southside of San Anto. It's a huge source of pride for me! I grew up in the very same house I live alone in now, and it's such an integral part of who I am. My parents are both from Mexico, so as a kid I spent a lot of time there. I was a border baby in between Piedras Negras, Coahuila, where my dad was from, and Eagle Pass, Texas ,where my mom's parents lived. My work and life are super reflective of that time, and I think anything I make is like a little love letter to that time. Strong, independent cabronas are my muses and I'm lucky to have had plenty of those growing up and in my life now. Mami's sayings, abuela's dichos — those are kind of the foundation to VeryThat. One day, probably about 10 years ago, my niece Lexi and I walked into Target around back to school time and Lexi pointed out that all the little girls in the posters above us were white and did not look like her. That left an impression! Now, in addition to the tiles, totes and tees, I'm working on calendars, planner accessories and stationery — all inspired by my Lexi.
What keeps you motivated?
So many things! Women, my comadres, are such inspirations in general. I so often get asked to make and carry things for cis men, but nah, my work is for women. When I quit my last job, I knew that I had to work hard to make it work — to make a living for myself and live comfortably. I never realized how many obstacles would come with that decision, but honestly, it was the best one I ever made. I'm so excited to learn new mediums that I generally close myself in for a few days to figure things out. That's so exciting to me — getting a new machine or wanting to try something that I don't know anything about and just learning it through and through. I have a lot of support — my mami, who is the number one muse in my life, my sisters and nieces, my best friends and comadres, and of course, my partner. She reminds me every day that she believes in me, she comes and rubs my shoulders when she sees me stressed about something. She's at shows with me doing a lot of the hard work behind the scenes. My business as a whole changed dramatically last year, something just clicked for me. I finally started selling online. It took a few months to fully figure out, and I'm still learning new things every day. I could not have pulled it off without Vanessa and her support and love.
Gloria Anzaldúa famously wrote about living in borderlands, that mystical space where we inhabit so many different personas all at the same time. What aspects of your identity speak to your work the most?
Wow! Gloria came to me later, I wish I knew her in my early 20s! My work, the cositas I put on my tables, is so bright and intentionally funny, vulgar, nostalgic. Sometimes I have to go to a past place for that. I think about Carmen, the mom in Real Women Have Curves. That's the best role in the history of roles, in my opinion. She reminds me of so many tías, my mom — that mix of pinche and loving; that was my childhood. So in one breath I would hear how pretty or smart I was, and in the next I'd be told to lose weight. This was like when I was 9! I mean, really, how fucked up is that? Pero, that's what it was, and now I can find the funny in it. Now I embrace the gorda, much to some family members' scoffs. I can finally say that, yes, I'm femme even when I don't always abide by that aesthetic. It's a beautiful thing to let go of these pendejadas passed down to us — as if we ever asked for them. My work is colorful and funny, but sometimes that's inspired by a hurt 9-year-old kid, and sometimes that's inspired by the cabrona in me that I have worked so hard to bring out again. Vending life is funny because you're always "on." Oh my god, especially at first, you don't want to lose that sale that literally pays your bills! So for a long time, I buried the cabrona and only brought out the sweetest parts of me. Ya no. I have done a lot of personal work to make sure I allow the full me to be present, always.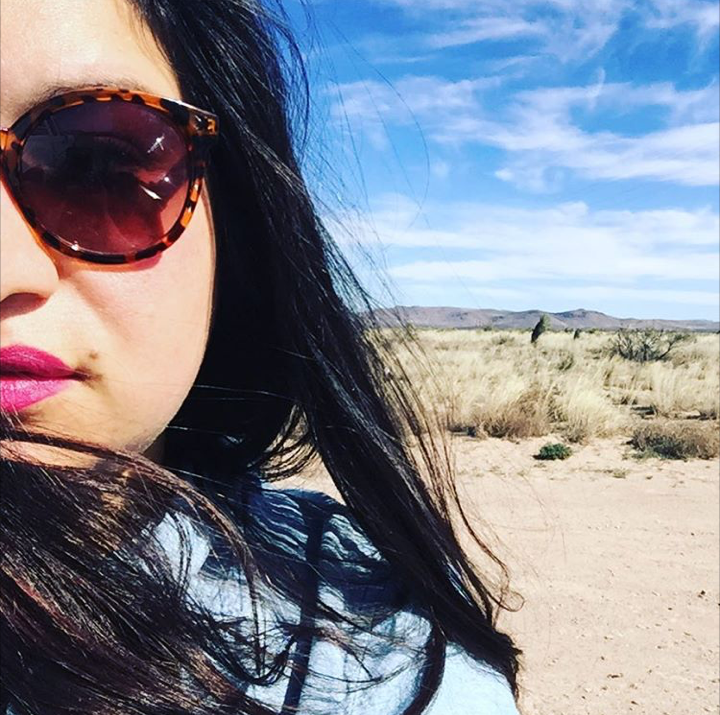 Where do you find inspiration?
It took me a long time to realize I really, really like being alone. Early on I always needed someone by my side, to go anywhere, to do anything. Now I really take comfort in being alone with my thoughts, alone with my music, alone in my chones. That's when I'm most productive, most creative. Also, I try to read Sandra Cisneros a couple times a year. I am so grateful to the friend that shared Gloria Anzaldúa with me; I never knew how much I needed her, especially as a Tejana. I listen to Selena, Juan Gabriel, Rocío Dúrcal, Carla Morrison, Erykah Badu and Beyoncé almost exclusively. My workspace is surrounded by the work of other women I admire, and is mostly local. My neighborhood, the beautiful Southside of San Antonio — ay, I could write love letters about it every day and never have enough words. Sometimes I cruise my neighborhood on my bike and check out people's houses and yards. There are so many tiny altares to La Virgen de Guadalupe, and flowers mixed with nopales, and kids still playing outside, women in batas watering their yard or sweeping their sidewalk. I just love it. Also, I come from a long line of strong women that hustle. Growing up, I remember my mom having so many side hustles. I can finally acknowledge that it's just as important to nurture the hustle as it is to nurture the creative of my business.
What has the most fulfilling experience been for you since you began VeryThat?
Connecting with other women, hands down. I never expected to organize shows, collaborate with women and businesses that I admire so much, and be a part of this really badass network of local (and sometimes not so local) mujeres. Also, sometimes it's hard for me to say that I'm proud of myself, but I am. I have created this crazy little life where I support myself with my art and cositas, connect with people all over the world through social media, and live a life that I would have loved to read about as a kid.
What role do you think artists in our community and as a whole play in terms of raising consciousness?
The biggest and most important. I don't rely on history books to tell me about yesterday; I look at the art that came from that era. That will tell us everything we need to know. I'm so scared of what's happening to our country right now, but someone said that we can expect powerful art in exchange. That stuck with me. I feel like, more than ever before, I have to make more inspiring things, more Spanglish content for women like me. Last year was our first ever Chingona Fest in San Antonio. What we saw was an outpouring of women coming together to just be together. We need more of that. We need more spaces for each other to think and speak and create together. San Antonio has this beautiful community of artists, musicians, organizers and chefs that so often come together. The real magic happens locally.
What is your personal mission as an artist and creator?
My mission is to honor the beautiful complexity of my culture. I intend to honor madres and abuelas, preserve their dichos and celebrate the beauty of women. I want to make stuff for cool tías! I want to encourage everyone to celebrate the chingona in themselves and in their comadres, sisters and primas. We need stuff too, you know?
To keep up with Cristina Martinez and VeryThat, visit verythat.com.