Originally published in the San Antonio Current.
On the heels of the season finale of the third season of RuPaul's Drag Race: All Stars, San Antonio's own singing drag queen Ada Vox has landed as a contestant on ABC's reboot of American Idol.
This isn't exactly Vox's first go-round with the show.
After wowing celebrity judges Nicki Minaj, Keith Urban, Mariah Carey and Randy Jackson, the queen (back then performing as themselves – Adam Sanders), advanced through the notoriously exhausting Hollywood week of rounds on Season 12 of the show back in 2013.
Sanders wasn't able to make it into the top 40, but the South San High graduate and UTSA alum auditioned at the San Antonio tryouts in October, and on February 15 posted to their Instagram "could this queen be the next Idol??" – alluding that they actually might be on the revamped competition.
And though Sanders hasn't appeared in the first few episodes of this new season (except for a 3-second teaser at the end of the latest episode) another Instagram post suggested that this Sunday, March 24 was definitely the day Ada Vox would get her TV debut.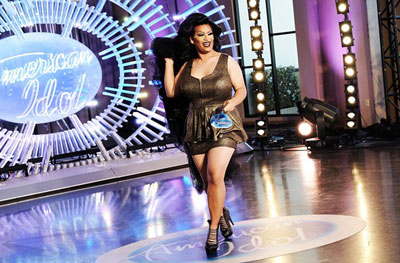 We caught up with the singer to talk to her a little bit about their musical influences and their transformation from Adam Sanders into Ada Vox.
When did you first realize that you could sing, and when did you know that you wanted to be connected to music?
I've always kind of sung. I grew up around good music that my grandparents or my parents would play. But there was kind of a turning point when I had brain surgery at eight years old (a cyst had developed against Sanders' brain stem).When I was in the hospital, my mom would sing to me. And when she would sing to me, I had this sense of healing and a sense of happiness. That was the only time I would have relief from the pain that I was dealing with at the time. It was all around the same time American Idol [first] aired as well. So it all worked out that American Idol became a part of my dream.
What other influences did you have growing up? What some musicians were you drawn to?
I was drawn to emotion when it came to music. [My family] listened to a lot of Whitney Houston and Aretha Franklin, and old good music, and of course we're in Texas – we listened to Selena so much we burnt out the tapes (laughs), ya know? So she was a big influence as well. Ya know, music that's just driven by true artistry and emotion.
I saw your performance on YouTube doing Etta James. I was just like, 'Man, you don't expect that type of soul to come out of someone.' What was your experience like auditioning?
Back in the day on season 12?
Yes.
It was very interesting. I went in that year, thinking I was more ready than I ever was going to be. I went in so ready to do it. This was my dream. I was going to make it come true that year. And you know, obviously the audition itself went very well. I was received well. But at the end of it all, I made it through rounds and made it through rounds, but I as an entertainer and as an artist and as a person – I just wasn't ready.
What about yourself do you think wasn't completely developed then?
Honestly, I was an OK singer then – I was. But I'm a hundred times better now than I ever was then. I'm vocally better, I'm a better performer, I'm a better entertainer, I'm more prepared as an adult now to take on the challenges that come with a competition like this. It's not easy; it's emotionally draining and it's physically draining. It's exhausting in every way that you can imagine.
That doesn't seem like a fun time (laughs)
(Laughs) It's work! Ya know, they pay for everything – they feed us. You don't have to worry about anything, but you know what? It's because we're here working. We are here working our asses off. Regardless of what people think, this is a job that we're applying for and we are here to make a career out of what we do.
What made you decide to introduce that drag queen aspect into your performance?
Yea, ya know, it was interesting. I had never been around the gay scene very much, until after American Idol. I was invited to perform at San Antonio Pride through [fellow Idol contestant] Josh 'Jada' Davila. We had become friends. They were headlining the event, and invited me to open up for them. So, I went and threw myself into this pride event that I didn't even know we had. I didn't know that drag queens were real life and not mythical creatures … I watched the show, and I realized that none of these [queens] were singing and I thought ,'You know what? I can do that, too,' but I can sing.
So I thought it would maybe bring something different to the scene down here. In developing that, and becoming Ada Vox, I realized that drag is not such a small thing. With the world evolving the way that it is, it's becoming so widely accepted and so widely looked up to, and the people that do [drag] are the people that aren't afraid of being themselves. And people look up to that and admire that in somebody. What I noticed was I started getting attention that I never would have received from people in the entertainment industry. I had management reaching out to me, I had record labels interested in having me do auditions, I had all these reality shows coming to me …
I said maybe this is happening 'cause it's time for someone like me here … so I went ahead and stepped out this time as Ada and I said, 'You know what? This is my time to make my mark. It's my time to stand for something and it's my time to make my dreams come true.'
Catch Ada Vox on the next episode of American Idol on Sunday, March 23 at 7 p.m. (CST) on ABC.