You probably already know SAY Sí. The creative youth development organization, which offers tuition-free programs in various artistic disciplines, has been around since 1994 and inhabits a sweet piece of real estate at South Alamo and Probandt, right by Blue Star. You might have even caught a student production or group exhibit there on a First Friday in Southtown.
But did you know they design video games, too?
That's right: Students in the organization's Home for Innovation and Video Ecology (HIVE) new media program have conceived, created and launched an open-world, inclusive, dating simulation role-playing game (RPG) called Date Me Super Senpai, the tongue-in-cheek title a reference to the world of Japanese anime, wherein a "senpai" is a person of a higher social status or a master of some sort.
The game debuted in beta at the PAX South gaming conference in January and officially launched in July, after nearly a year of tireless (often tedious) work, at Video Games Live, a Youth Orchestras of San Antonio production celebrating the music of gaming.
Although many worked on and helped test the game throughout the process, including HIVE instructors Stevan Živadinovic, Rick Stemm and Ned Meneses, the whole undertaking was really in the hands of Ren Alvarez (lead artist), a 10th grader from John Paul Stevens High School, Luis Castañeda (lead environmental artist), an 11th grader from Southwest High School, and Chabriely Rivera (lead designer and concept originator), a 12th grader from Lady Bird Johnson High School.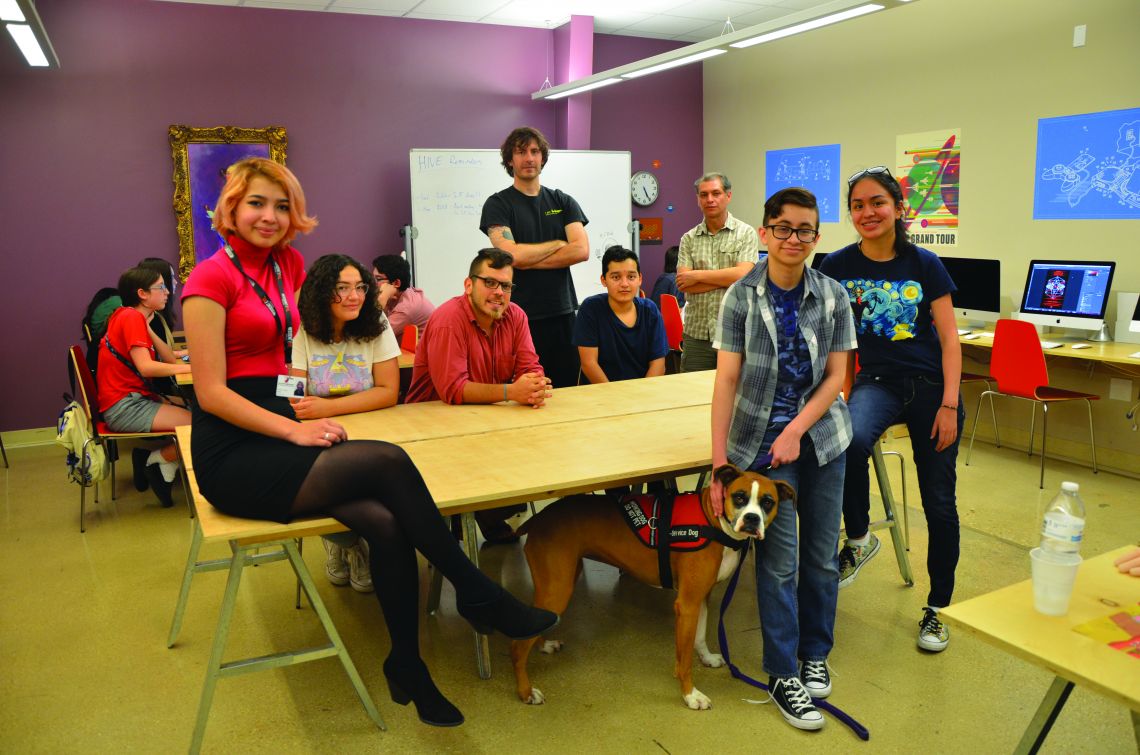 Živadinovic told Out In SA that the students really did almost everything for this project (and are now learning about the marketing stage), with the HIVE faculty providing "a lot of task management and tone control."
"Basically any place students' lack of experience would have them paralyzed," he explained, "we helped [them] over the hurdles and kept them going forward."
Set in a high school for superhumans, Date Me Super Senpai invites players to explore the school, make key choices that determine their reception and their fate, to interact with a diverse and representative cast of characters, and to find love.
While in many dating sims, the player must follow a rigid set of rules to entice their digital beloved, in Date Me Super Senpai there is no formula. The students, in a decidedly wise move, wanted to be more realistic. Relationships are never perfect matches, and it's never a good idea to assume you can make yourself into an ideal for someone else.
In the game, as in life, you assert your individuality and hope to find someone compatible. At the end of the game you are matched with someone, without regard to gender, based on the values expressed in your choices throughout.
"When the dating sim idea was first floated, [Alvarez] was kinda apprehensive that it would be a hetero-normative mess and insisted that the game be queer- and trans-friendly," Živadinovic noted. "Everyone turned out to be on the same page there, and from the get-go doubled down on the inclusiveness."
"We wanted to be inclusive, but also just to reflect reality," Rivera said about the lack of gender lock on the game's outcomes and the inclusion of a transgender character, as well as characters of all races and abilities.
"You have to remember that there are a lot of LGBT people in the art industry as a whole, several of us are a part of that group. This wasn't like something we felt we had to do, it is just natural for us," Alvarez added.
"I find, as a transgender person, that my peers in high school, well especially in SAY Sí, are generally more accepting than adults," Alvarez said. "In my personal journey, I've had a lot more trouble with staff than students."
Alvarez, who has already received praise and scholarship offers for his work on Date Me Super Senpai, explained that it was at PAX South that he truly realized what a life-changing experience this whole thing has been.
"There were [game designers] that I look up to saying like, 'Wow, I wish I was making video games when I was your age because you're like an inspiration.' That was such a huge achievement for me," Alvarez said.
Every bit as important as personal success, Živadinovic reported that "the HIVE is a much more close-knit place after Date Me Super Senpai," which means that this is only the beginning.
All proceeds from sales of the game, which can be purchased online (say-si.itch.io/date-me-super-senpai), go right back into the program.