"I was looking for a place that was 'cool' and quiet and that still had some dust on it," says chef Michael Sohocki of the location of Il Forno, his new pizza place between Nogalitos and South Flores. He had exploited "every square inch of space" at the Downtown location that houses his Restaurant Gwendolyn and Kimura. And as Southtown was "exploding," a derelict property on Nogalitos began to look more appealing as a location for the new enterprise.
At least, it looks appealing now. When he started renovating the trashed-out building, across from the parking lot of a venerable Catholic church, "the windows were covered in slime, we found a crack pipe in the demolition process … we had to totally gut everything" — along with hand-building a pizza oven, constructing tables from salvage lumber and weaving a fence out of rough cedar saplings. "Father Gamez has been very helpful," Sohocki says of the parish priest of St. Henry's (he allows Il Forno to use the church parking as the restaurant helps maintain it), and now there's no dust to be seen anywhere on the restaurant property. But as for quiet, certainly not for long.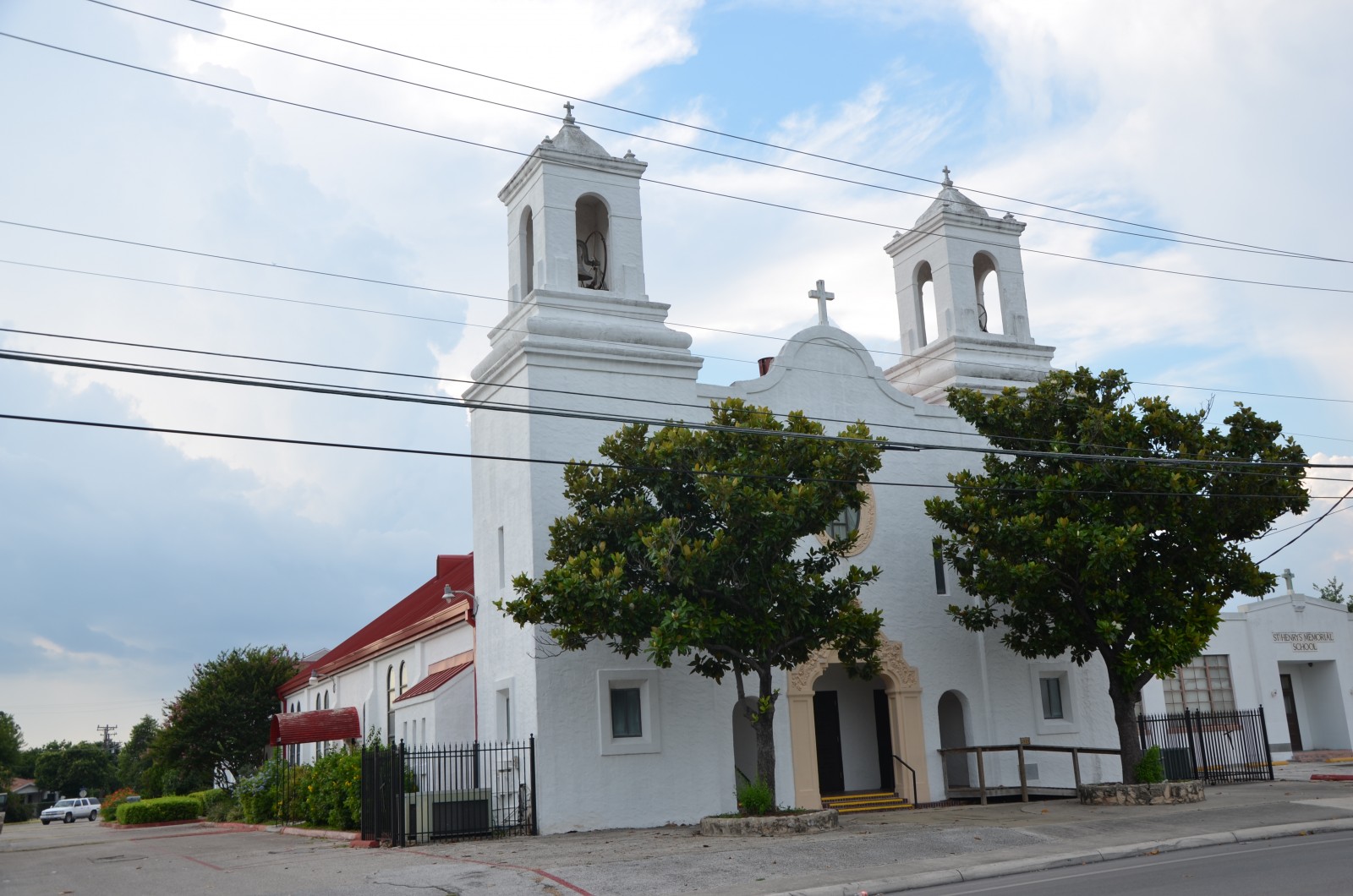 For purposes of this article, let's consider the boundaries of the neighborhood, variously called Lone Star/St. Henry's/SoFlo in numerous permutations, combinations and overlapping websites (in deference to the neighborhood organization of long-standing, let's settle on Lone Star), to be South Alamo and Probandt on the north and east, and San Pedro Creek on the south and west. At the heart of the 'hood, in the eyes of many, is a collection of galleries and studios that form a kind of loose arts district.
It's probably fair to suggest that an early catalyst was Franco Mondini-Ruiz and his Infinito Botanica on South Flores. Sandra Cisneros' introduction to the collection of "Tex-Mex Fairy Tales" that constitute his book/memoir, High Pink, says this of his "rascuache" shop-salon: " [In about 1992, when Franco opened Infinito Botanica]; other artists followed, living upstairs or next door, so that when an arts event occurred, it involved several studios and the space in between. Anything could happen and often did. Performances on the sidewalk spilling onto the street. Backyard cookouts featuring feasts more magnificent that Moctezuma's." Infinito is no more, but, in many ways, it lives on in Second Saturday.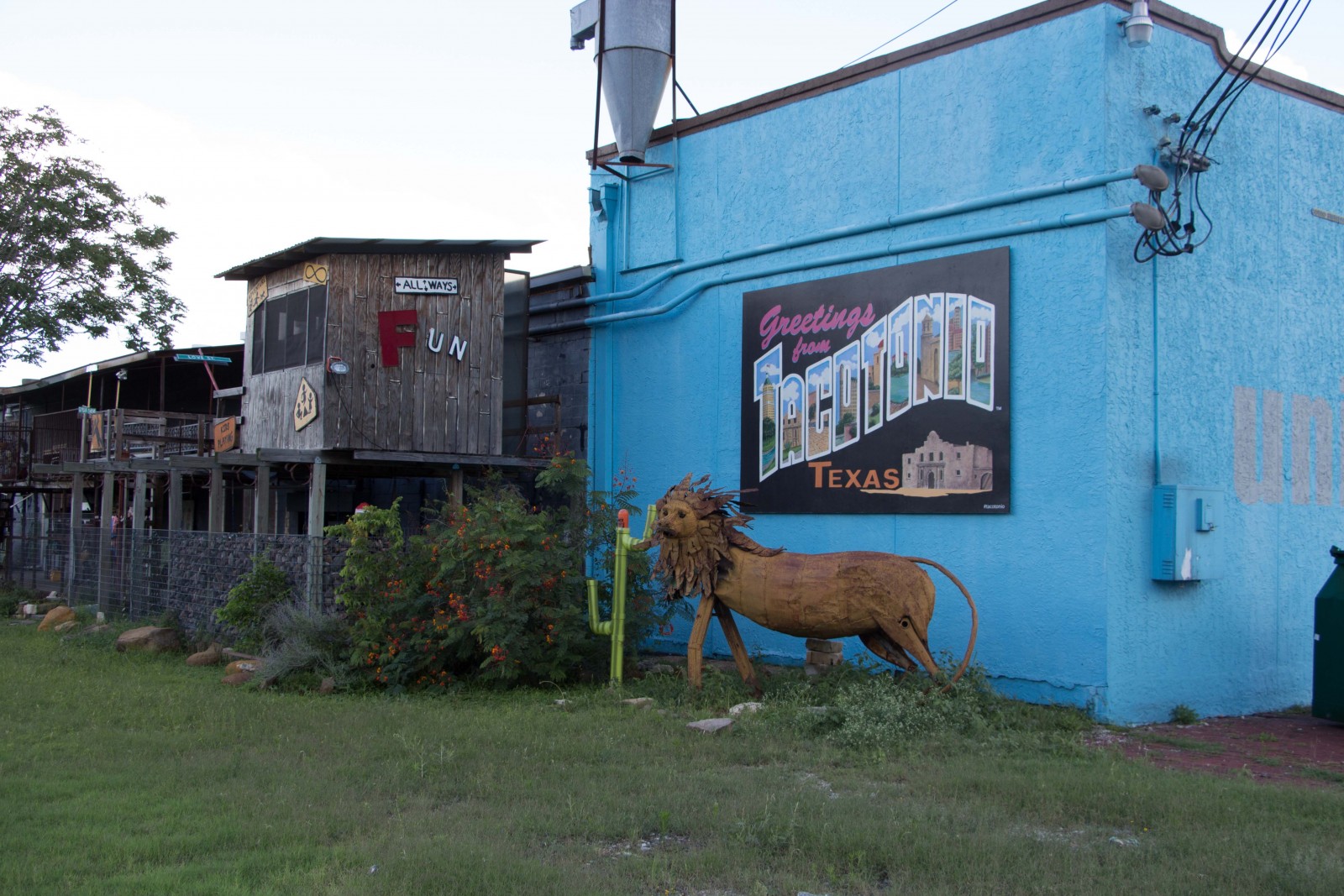 The success of the monthly studio stroll is due entirely to the concentration of artists working, and sometimes living, in a tight cluster along South Flores and side streets such as La Chapelle and Lone Star. Bill FitzGibbons, former head honcho at Blue Star Contemporary and the artist responsible for the Light Channels installation under I-37 between Downtown and the East Side, among other local and international projects, says, "Andy Benavides and Joe Lopez were the first to come in [at 1906 South Flores and the original Gallista Gallery across the street] about 18 or 20 years ago … Andy told me about this space [on Lone Star behind 1906] about 12 years ago." And FitzGibbons leapt on it. A small gallery now fronts his own large studio and other galleries are sublet, much as they are at 1906. Nearby galleries such as Freight (being renovated with the prospect of adding a restaurant), 3rd Space and R Space hosted impressive shows during a recent Second Saturday, giving rise to the inevitable question: How long can these galleries and studios survive until their own success forces them out? Artists like cheap space; so when they find it and establish a beachhead, "bars, restaurants, commercial galleries and new residential move in," says FitzGibbons. Under the normal landlord/tenant model, the real estate soon becomes too pricey and the artists are forced to move on. "But, here, we own the buildings and we're not moving!" he declares. It should be noted that some artist residents, including Andy Benavides, who championed Southtown's First Friday and later imagined the similar Second Saturday art event here, prefer to think of an arts community that encompasses the two neighborhoods and is consolidated under the term Southtown Arts District.
If the artists have colonized under-appreciated commercial properties, Boyan Kalusevic and Chris Mobley, the guys behind Dorcol Distilling Company, built their fledgling distilling (and now brewing) facility from the ground up, hard along the railroad tracks that bisect the district. (Thanks to efforts of neighbors, many crossings are now no-blow, but railroad traffic remains a daily circulation annoyance, regardless.) Since opening in late 2014, Dorcol, whose bar is currently open Thursday through Saturday, has become an activity center; in addition to dispensing creative cocktails, the partners host events as diverse as crawfish boils and performances by the Symphony Strings. "Right now, we're a special-event location, not a neighborhood bar, "says Kalusevic. But, adding that "we're proud to be here," he expects that with time Dorcol will be a little bit of both. Rumors of a second distillery planned for farther down La Chapelle persist. And, with yeast apparently in the air, Hill Country Bakery, located west of South Flores (they supply all of Starbucks baked goods nationwide), has posted "now hiring" signs, suggesting that the area's light industrial past is far from disappearing; it's just taking on a new face.
Normally, of course, it's existing housing stock that first generates interest in a neighborhood. But, though there are several handsome commercial structures along South Flores in Lone Star, that stock lacks the immediate curb appeal of, say, Dignowity Hill. Homes are mostly one-story frame, there are few that would qualify as historically significant … and at least on the edges of the 'hood (especially close to Newell Salvage on Probandt), maintenance may not appear to be priority one. Yes, there are exceptions, as a drive along St. Francis Street will attest. But, to the possible consternation of long-time residents, it's multi-family housing, mostly on the north and northeastern flank, that is energizing the area, getting people on the streets more than once a month … and, of course, spawning a market for zero lot line infill.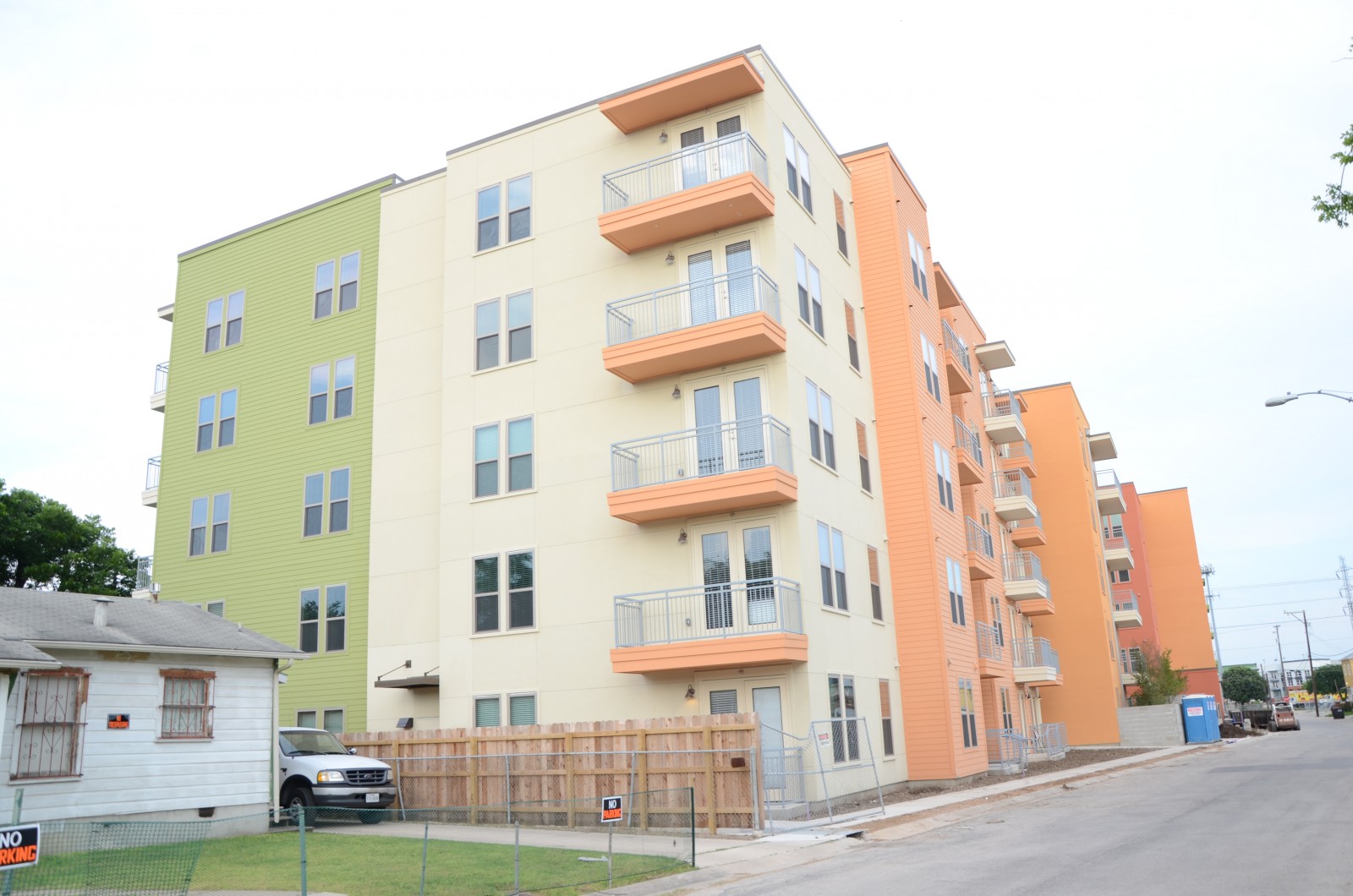 Among the first loft-like projects to emerge were the Steel House Lofts and South End Lofts, both conversions of former light manufacturing. (Steel House, designed by famed local architect Atlee B. Ayres, opened in 1913 as Peden Iron and Steel.) Today, a large one-bedroom unit in South End can be yours for $349,000. (But you would have Johnny Hernandez's La Frutería just up the street in Steel House as a certified amenity.) Designed with a different market in mind, the first new multi-family rental property to arrive was Cevallos Lofts (CL). A product of Alamo Architects, themselves neighborhood residents, CL offers a landscaped central commons with pool, secure underground parking, a small specialty grocery store and units ranging from studio ("only one left") to two-bedroom. Initially, some units were set aside for "workforce pricing" (same units without granite counters and stainless appliances); today a market-price one-bedroom goes for $1,333 to $1,827.
CL's marketing emphasizes a Southtown connection ("Made from Southtown. Created for you.") as does that for the newly completed Southtown Flats on Probandt and Cevallos, opposite popular La Tuna (where some new rental units have also been constructed); its one-bedroom apartments range from $1,218 to $1,786 per month. But, ultimately, Lone Star is bound to assert its own identity. Certainly, the folks renovating and building at a smaller scale within the neighborhood are helping to foster a unique community.
Currently, most activity is focused on Clay, Simon and Fest streets. Though it turns its back to the street, an especially handsome trio of units in the 300 block of East Fest shows what can be done at a scale compatible with single-family neighbors. A battery-powered Tesla in one carport sported "Plug Me" plates; outside, a chihuahua slept unperturbed in the middle of the street; and across the street a brand new, speculative home by father-and-son builders Armando Hernandez, Junior and Senior, neared completion. "We wanted to do inner city without [the need for] a $600,000 loan, and we didn't want to do cookie-cutter," said Hernandez, Jr., who revealed that they already had an offer for more than asking price. There are several vacant lots abutting the Hernandez project. Wachale, chihuahua — your days of sunning in the street may be over.
According to FitzGibbons and others, "the 900-pound gorilla" in the 'hood, a project with the potential to massively influence future development, is Aqualand. Much depends on the moving and remediation of the adjacent Newell Salvage operation, but if the developers of the old Lone Star Brewing property manage to pull it off, their mix of entertainment (a Texas Music Hall of Fame has been proposed) and revived beer-making (the developers want to bring back brewing of Lone Star, along with microbreweries and beer gardens) should create real buzz, and the impact on traffic alone could be profound.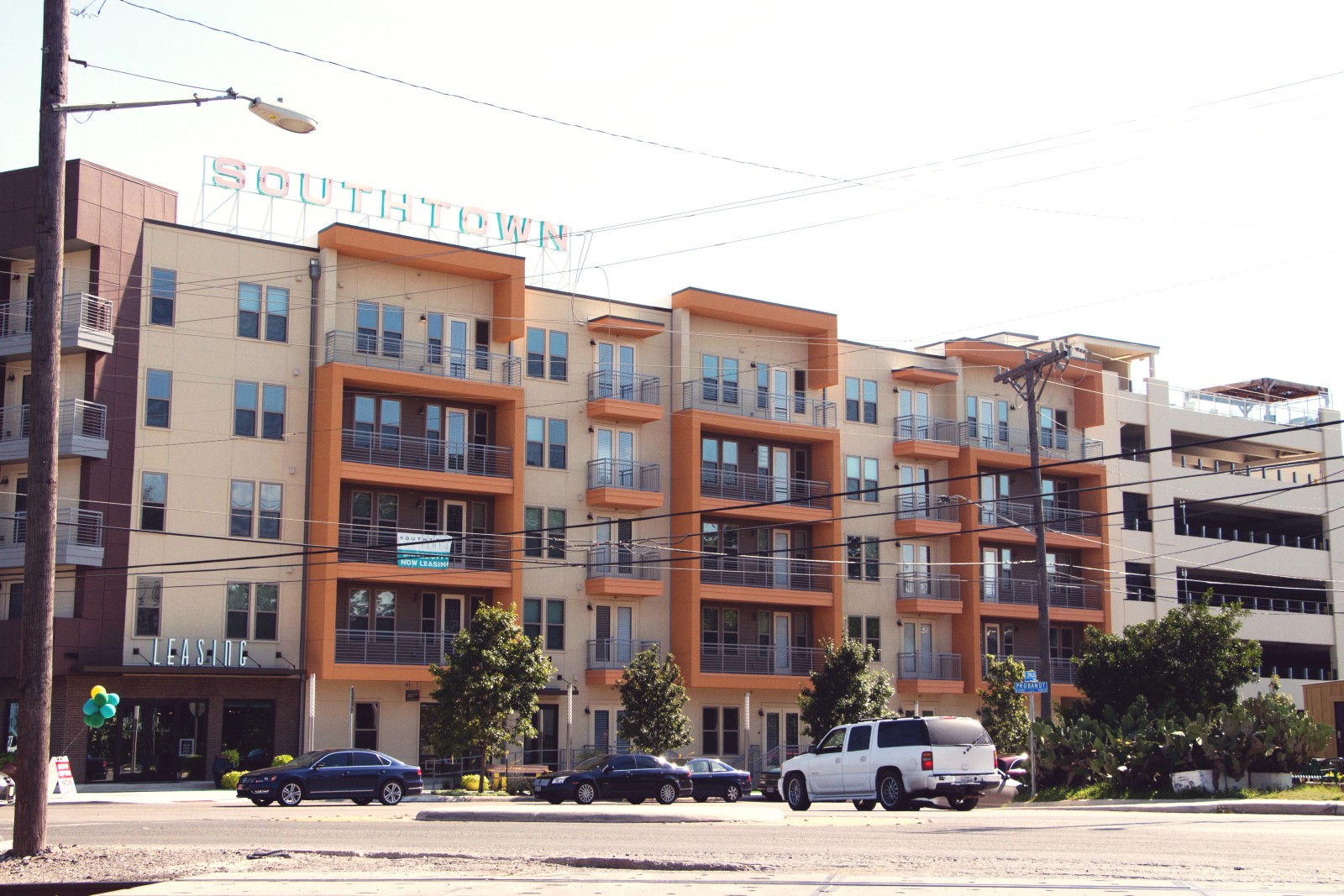 Traffic of a slower sort can be expected almost immediately with the completion of the hike-and-bike trails that now line San Pedro Creek southward, from its intersection with Alazan and Apache creeks. Depending on the ease of access from within the community, this trail, along with another that has been proposed on a disused railroad right-of-way north of La Chapelle, will provide hookups to miles of recreational activity along San Antonio waterways. (The popular and pop-painted Bottom Bracket Bicycle Shop on South Flores is already anticipating a need.) Healthy activity should ideally lead to the presence of more young families, creating a demand for Kipp Cevallos. This free charter school, now nearing completion alongside railroad tracks on Lone Star's western boundary, is another Alamo Architects project and will expose 1,900 K-12 kids to a rigorous academic program. Many students are expected to come from the surrounding area.
Which ultimately leads to this: "It really feels like a neighborhood," says Torrey Carleton, who heads up the offices of the AIA (American Institute of Architects) on South Flores. "I look out and I see people jogging, walking dogs … it's exciting and we plan to dig in and be a part of it."