As a Chicana lesbiana dyke, my full sense of self was shaped by institutions that embraced all of me as big, brown, queer and gender-nonconforming. My self-awareness was nurtured by powerful organizations like LLEGÓ in Houston and Allgo in Austin. In San Francisco, there was AGUILAS, and Ellas en Acción, two active Latino queer organizations. My ability to celebrate all of me, as brown and queer, was found on the dance floor at Esta Noche or Colors in San Francisco.
In San Antonio, you found me at The Boss dancing to a cumbia or disco beat. That Southside gay bar has since closed much like Circus Disco in Los Angeles or the Noo Zoo in San Antonio. As the LGBT community grows mainstream and gentrification takes hold, these inclusive spaces are being pushed into oblivion. But there is one enduring organization where I find myself always embraced.
In 1987, the Esperanza Peace and Justice Center was founded by a group made up of mostly queer Chicana activists and community organizers seeking to bring together diverse movements for peace and justice not just in San Antonio, but from around the world. In the late '80s, under the stewardship of first executive director Susan Guerra, the organization worked out of a building on North Flores Street. In 1988, after returning from film school in Cuba, Graciela Sanchez became executive director and still holds that position today. This collection of activists grew with this vision of creating a "world where everyone has civil rights and economic justice, where the environment is cared for, where cultures are honored and communities are safe. The Esperanza advocates for those wounded by domination and inequality — women, people of color, the lesbian, queer, trans and gay community, the working class and poor."
Looking back, this organization founded on hope has brought in multiracial, multicultural and bilingual cultural arts and social change to our community — all spearheaded by women of color, most of whom are lesbians. As their website states: "Esperanza is mujeres, Latinas, African Americans, Asians, Native Americans and whites. Esperanza is queer and straight. Esperanza is the economically disadvantaged trabajando junto con la gente de clase media. Esperanza is feminist, politically progressive and outspoken."
It is difficult to capture the many contributions and the impact this very queer-friendly place has made in San Antonio, the state of Texas, the region and in the country. And often, we overlook the impact the Esperanza has made because it is an organization that constantly challenges us to look at the connections we have with one another. It is an organization that approaches its work with an intersectional view demanding that we see how issues (and how we) are related to one another. For example, earlier I said that queer spaces are being pushed out because of gentrification. The Esperanza is an organization that will ask "How does a proposed new subdivision impact people of color? Where will the workers live? Will the HIV-positive youth have access to health care? Will the queer bar be able to afford the lease next year?" At a surface level, a queer person might wonder, "What does the new subdivision or city expansion have to do with me?" That is the work of the Esperanza — to challenge us to see how we are all connected and to move us to ask, "How do the issues relate to one another and how does it impact our communities?"
Since its foundation 30 years ago, the organization has worked on every issue imaginable, from human rights training in 1998 (a program I worked on while employed at the Esperanza) to preserving historic places like La Gloria and Lerma's Nite Club on the Westside and the Hays Street Bridge on the Eastside. It is an organization that has supported reproductive rights and clean water. It is an organization that has addressed the issues of Palestine and the indigenous struggles of Guatemala. It is an organization that produces concerts showcasing the talents of Azul Barrientos, Lourdes Perez, Las Tesoros de San Antonio, Eugenia León and Lila Downs. It is an organization that has fought back against the Ku Klux Klan. With such a broad view of building a better world, one can forget that the Esperanza is so very queer. As a refresher, here's a condensed account of the center's influential programs and contributions over the last three decades.
1988
As part of its "Arte y Corazón" visual art programing, Esperanza presented "The AIDS Series" in 1988, the first visual art show in San Antonio to explore a subject few were ready to publicly discuss. The opening reception included speakers — both straight and gay — who addressed the effects of AIDS on the lives of people and communities they loved. At the time, "The AIDS Series" was a radical and controversial undertaking. After the exhibit, one of the first lesbian and gay art shows in Texas was exhibited at the South Flores space and continued as an annual event until 1993.
1994
After being evicted for hosting lesbian and gay programing that included the annual "Closets, Queer Experiences" art show, the Esperanza regrouped and tripled its size by ambitiously purchasing its current headquarters at 922 San Pedro.
1995
One year after purchasing the building on San Pedro, the Esperanza hosted "Who We Art," a group show that opened with more than 800 in attendance.
1997
Mayor Howard Peak presided over a City Council vote which prevented the Esperanza Peace and Justice Center from receiving City arts funding, asserting that the organization's social justice work was political and not artistic. The defunding impacted the annual San Antonio Lesbian and Gay Film Festival, Out at the Movies, which the Esperanza co-sponsored with the San Antonio Lesbian and Gay Media Project. The Esperanza filed a federal lawsuit in which, three years later, Judge Orlando L. Garcia ruled that the City's actions were unconstitutional. Judge Garcia wrote, "…Once a governing body chooses to fund art, however, the Constitution requires that it be funded in a viewpoint-neutral manner, that is without discriminating among recipients on the basis of their ideology."
2007
Curated by Penny Boyer, "¡Qué Queer! San Antonio" showcased the artistic talents of local queer artists and combined artwork from 200 gay and lesbian organizations.
2009
In 2009, the Esperanza premiered Miss America: A Mexicanito Fairy's Tale — a heart-warming play exploring issues of acceptance, family, religion, sexuality, gender identity and coming of age. Penned by Jesus Alonzo and directed by Maria A. Ibarra, the piece follows Chuy (portrayed by Jaime Gonzalez), a 9-year-old boy who often dresses in his sister's quinceañera dress and dreams of winning the Miss America Pageant. In addition to Gonzalez, the play featured the late Erica Andrews, an actress and drag entertainer recognized in 2006 as Miss International Queen.
2012
For "¡Queers Presente! 25 Años – 25 Artists," the Esperanza brought together 25 LGBT artists whose work celebrated Pride month in a variety of artistic mediums. Curated by Penny Boyer, the exhibition united artists Phillip Avila, Ana Fernandez, Lisa Mellinger, Liliana Wilson, Franco Mondini-Ruiz, David Zamora Casas, Martha Prentiss, Agosto Cuellar, Antonio Padilla and Ester Hernandez, among others.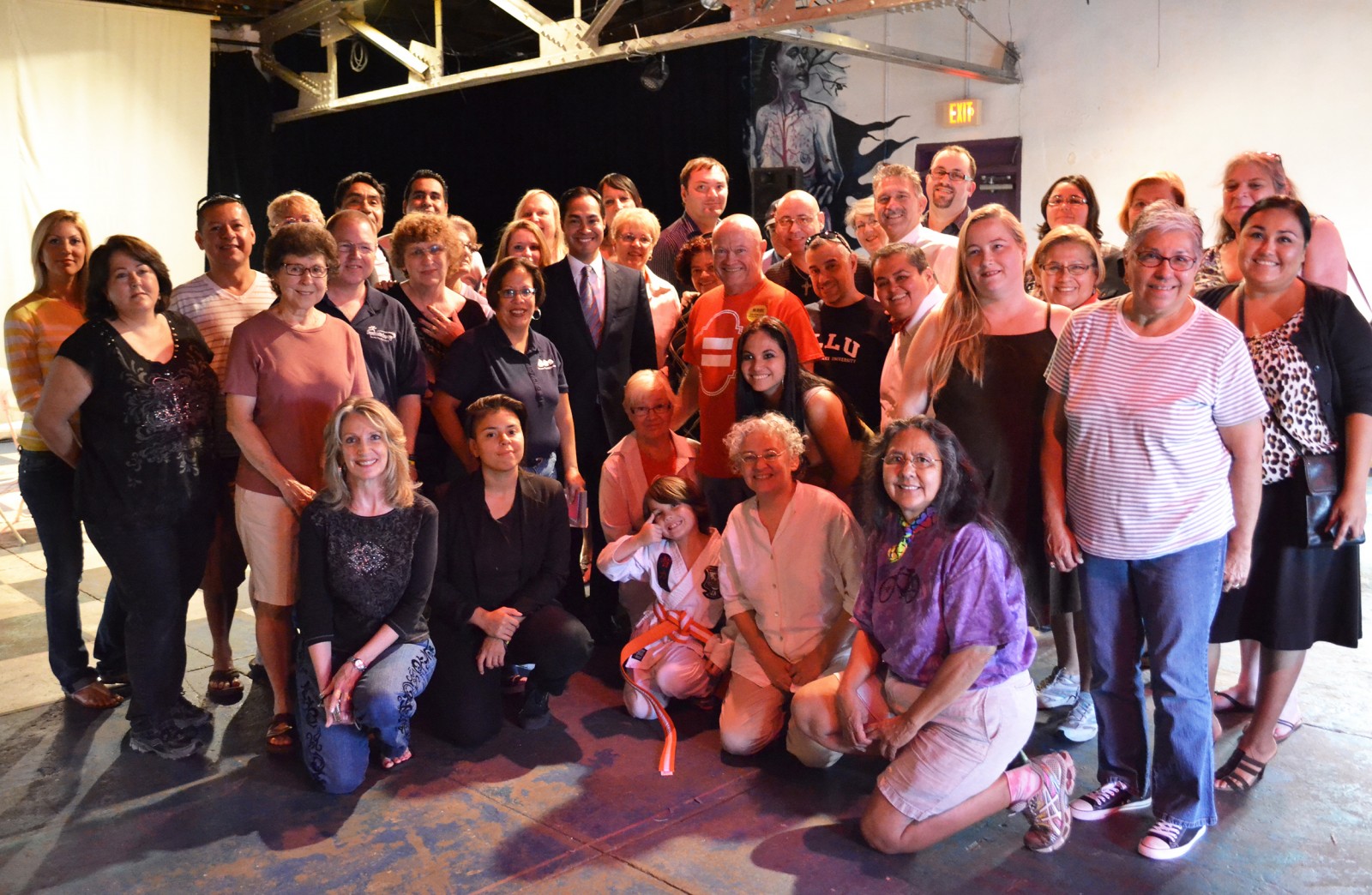 2013
In early 2013, CAUSA, the coalition that organized around the passage of the Non-Discrimination Ordinance (NDO), started meeting at the Esperanza Peace and Justice Center. "In January, we began to meet at the Esperanza and CAUSA began to really gel," transgender community activist Lauryn Farris remembers. "The leadership role that the Esperanza and executive director Graciela Sanchez took allowed us to bring all the populations together. Coming together at the Esperanza allowed us to be inclusive of everyone." Reflecting on the announcement of the passing of the NDO that September, Farris recalls "I'll never forget it … the Esperanza's role was instrumental."
2014
First presented at the Esperanza as a staged reading in 1995, Jesus Alonzo's play Jotos del Barrio returned to the center as a full-fledged production under the direction of Maria A. Ibarra in 2014. Through poems, monologues and vignettes, Alonzo's original work examines the struggles individuals face with racism and homophobia.
2015
A collection of personal narratives designed to preserve the contributions of Latino/a LGBT activists, the anthology Queer Brown Voices came to light at the Esperanza with a plática that Mike Rodriguez and Dulce Benavides co-hosted with contributors Dennis Medina, Gloria Ramirez, Brad Veloz, Leticia Gomez and Luz Guerra.
2016
In March, Cherríe Moraga, co-editor of the This Bridge Called My Back: Writings by Radical Women of Color visited the Esperanza for a discussion about the power and lasting impact of the foundational text, which was published in 1981 and co-authored by late Texas native Gloria Anzaldúa. In May, supporters of the San Antonio Four gathered at the center for a special preview of Southwest of Salem, a documentary focusing on Elizabeth Ramirez, Cassandra Rivera, Kristie Mayhugh and Anna Vasquez — four women who were wrongfully convicted of aggravated sexual abuse and exonerated in late 2016. And in July, the Esperanza welcomed Guadalajara-born, Los Angeles-based trans Latina activist Bamby Salcedo for a screening of Transvisible: The Bamby Salcedo Story, a documentary shedding light on the TransLatin@ Coalition she founded and her work to build an intersectional community of Latinxs, immigrants, LGBT people, youth and HIV-positive individuals. Following the screening, Lauryn Farris moderated a panel discussion between Salcedo, Eric Larue and Antonia Padilla.
Where will the Esperanza Peace and Justice Center go from here? I asked Graciela Sanchez this question. "We must work together for our humanity. I hope that in the next 30 years, people stand together in everything, and we keep fighting. We learn from our abuelas, we learn from Audre Lorde, Gloria Anzaldúa, we have to work with each other for our lives." The next 30 years? The Esperanza will remain front and center, working to create a world where everyone has civil rights and economic justice, where the environment is cared for, where cultures are honored and communities are safe.