Community members and businesses across the city are offering events and fundraisers for San Antonio's LGBTQ+ community, including new ones and old favorites. Whether you're hoping for a night out on the town or looking to celebrate from the comfort of your own home, there's something for you.
"de los otros"
Acclaimed San Antonio artist Jose Villalobos' "de los otros" is centered on the true story of a gay farm worker who was part of the Bracero Program that brought millions of Mexican laborers to the United States between 1942 and 1964. The exhibition can be viewed through Artpace's window facing N. Main Avenue. (Photo by Bryan Rindfuss)
Free, on view through July 18, Artpace, 445 North Main Ave, (210) 212.4900, artpace.org
Voices
Curated by local artist Jose Villalobos, Voices is a celebration of queer visual artists and their work, including works from several San Antonio artists.
Free, 6-10 p.m., June 4-30, Brick at Blue Star Arts Complex, 108 Blue Star, (210) 262-8653, facebook.com/BrickatBlueStar
Drag Brunch at Paramour Bar
Sip on Paramour's signature cocktails at the only drag brunch in the San Antonio area, hosted weekly by Kristi Waters, voted best San Antonio drag performer in 2020. The theme changes every weekend, so be sure to check Paramour's Instagram page before heading out!
$17.60, Saturdays and Sundays, 12pm and 1pm, Paramour Bar, 102 9th St, Suite 400, (210) 340-9880 paramourbar.com
Rainbow Drag Ball
Enjoy drag performances by Tezla Rawzè, Nomi Nou, DaminKa, and more at the Rainbow Drag Ball, hosted by Aysia J Rawzè.
$20-$75, 7 p.m., June 11, Brick at Blue Star Arts Complex, 108 Blue Star, (210) 262-8653, eventbrite.com
A Day With a Queen
The whole family can come along to spend a day on the rooftop with the (drag) Queen while enjoying lunch, story time, bingo and a silent auction. All event proceeds will benefit the Pride Center of San Antonio.
$10-$40, 11 a.m.-2 p.m., June 12, Chicken N Pickle, 5215 UTSA Blvd, (210) 874-2120, eventbrite.com
Pickleball & Pride
Take part in the inaugural Pickleball & PRIDE tournament, presented by Planned Parenthood and hosted by Chicken N Pickle in support of The Center.
$60, 3-6 p.m., June 13, Chicken N Pickle, 5215 UTSA Blvd, (210) 874-2120, pridecentersa.org
Supporting LGBTQ+ Youth Panel Discussion
Local experts Sandra Whitley of Thrive Youth Center, Alex Gomez of The Trevor Project, F. Leanne Lindsey of Center for Health Care Services, and a representative from the San Antonio Gender Association will serve as panelists, discussing how parents and community members can support LGBTQ+ youth.
Free, 6-7 p.m., June 17, City of San Antonio, (210) 207-7234, sanantonio.gov
Midnight in the Garden of Good and Evil
Enjoy a fun-filled evening with specialty drinks, a Fiesta-themed menu, live music, a silent auction and extravagant stilt-walking and fire-dancing performances at the sixth annual masquerade extravaganza. The night's impressive lineup includes performances by the Spazmatics and singer-songwriter Laura Marie, as well as DFNTLY Entertainment and Group Folklorico de Bendiciones. Proceeds from the event benefit Fiesta Youth, a local LGBTQ teen and young adult support group.
$125-$250, 7-11 p.m., June 19, San Antonio Botanical Garden, 555 Funston Pl, (210) 536-1400, fiesta-youth.org
San Antonio Football Club Pride Night
The San Antonio FC and Rio Grande Valley FC Toros are going head-to-head in SAFC's Pride Night, a celebration of "futbol for all." A portion of ticket proceeds go towards Thrive Youth Center, a safe space for homeless LGBTQ+ youth.
$15-35, 7:30 p.m., June 19, Toyota Field, 5106 David Edwards Drive, sanantoniofc.com/promotions
Fiesta Market and Pride Flow
For its one-year anniversary, Honest Soul Yoga is hosting a celebration featuring local vendors in its Shop Local Market: Fiesta Edition as well as a donation-based flow session that benefits the Pride Center of San Antonio.
Free, 5:30-9 p.m., June 19, Honest Flow Yoga, 223 E. Hildebrand Ave. #103, (210) 201-3648, events.getcreativesanantonio.com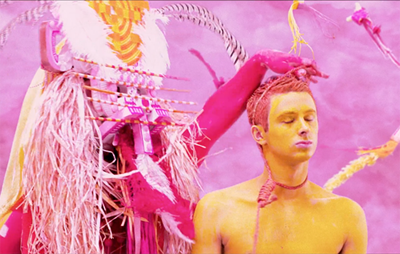 Youth Voice, Youth Pride
A nonprofit focused on supporting an amplifying the voices of young artists, SAY Sí is taking the month of June to highlight LGBTQ+ voices in particular. On June 22, SAY Sí is hosting a virtual film series and discussion featuring three LGBTQ+ youth films created by SAY Sí alumni. The online film series will feature three films made by SAY Sí alumni, with a Q&A discussion held on Zoom at 6 p.m.
Free, 6 p.m., June 22, SAY Sí, (210) 201-4950, saysi.org
Werk the Stacks Drag Panel
Local drag entertainers Aysia Rawzè and Miss Taint as well as members of the Latinx drag king troupe Los Mentirosos are joining forces to discuss the San Antonio drag scene, drag performance, and dragtivism.
Free, 7-8 p.m., June 22, San Antonio Public Library, (210) 207-2500, mysapl.org
Fiesta Frenzy
Celebrate power, pride, and perseverance in PRIDE San Antonio's Fiesta Frenzy, hosted by the Mistresses of Ceremonies Eryca Daniels and Autumn Summers. The show features local queens Amber Nixx, Taryn Taylor, Layla LaRue, Kourtney Deveraux, Lady Tiffany and Victoria Rosa.
$15-$25, 7 p.m., June 23, Public Theater of San Antonio, 800 W Ashby Pl, pridesanantonio.org.
The Pastie Pops Burlesque & Variety Show
The San Antonio-based group Pastie Pops are back for their first in-person burlesque and variety show in over a year — just in time for Pride month.
$25-$75, 7-9 p.m., June 25, The Overtime Theater, 5409 Bandera Road #205, (210) 557-7562, eventbrite.com
Pride Bigger Than Texas Virtual Parade
While the annual downtown parade is on-pause due to the pandemic, San Antonians can still virtually celebrate at the Pride Bigger Than Texas Virtual Parade! The event will be live streamed on both Facebook and YouTube, where viewers can watch makeup tutorials, participate in the Peace Love Pride Wedding event and welcome special guests. Pre-register to get married virtually by a real judge, a Pride tradition, or just show up to livestream for an evening of weddings, makeup tutorials and special guests. (Photo: Julián P. Ledezma)
Free, 5-10 p.m., June 26, Pride San Antonio, pridesanantonio.org
Drag Show for a Cause
Ticket sales to this two-part drag show benefit The Center, a resource center for LGBTQ San Antonians.
$25-$125, 6 p.m.-midnight, June 26, Chicken N Pickle, 5215 UTSA Boulevard, (210) 874-2120, chickennpickle.com
Pride on the Strip
Join in on the Pride festivities at the block party on the Strip, complete with vendors, food, drinks, entertainment and more.
Free, June 26, N Main Ave and Evergreen St, facebook.com/TheStripSA
A Prideful Fiesta
Mystery Market presents its Prideful Fiesta, an opportunity to get festive and celebrate Pride while supporting local vendors and enjoying entertainment by Folkloric dancers and drag queens, at San Antonio's Wonderland of the Americas mall. (Photo via Google Maps)
Free, 1-8 p.m., June 26, Wonderland of the Americas, 4522 Fredericksburg Rd, stayhappening.com
National Give OUT Day
In honor of Give OUT day, the national day of giving for the LGBTQ+ community, the Esperanza Center is hosting a fundraiser with the goal of raising $5,000.
All day, June 30, Esperanza Center, 922 San Pedro Ave, (210) 228-0201, esperanzacenter.org