"I am your mother! I am your sister! I am whatever you want!"
On a recent evening at Main Plaza, around 70 members of San Antonio's LGBT community had gathered to speak out against the Trump administration which, just a day earlier, had rescinded Obama-era guidelines meant to accommodate transgender students in public schools.
Organized by The Center (Pride Center San Antonio), the rally was meant to put a face on transgender issues and give a voice to those who would be affected by the administration's discriminatory actions. Among the speakers that evening was local comedian-turned-activist Joan Riviera. With a microphone in one hand and a cane in the other, Riviera emerged from the crowd to give one of the evening's most impassioned testimonials and calls for equality.
"I came out today to say to you, to the young children out there listening right now, I beg you: Do not be afraid!" Riviera told the crowd assembled in front of San Fernando Cathedral.
Acutely aware of the power of social media, Riviera spoke not only to the humble crowd that had gathered before her, but also to the cameras in the audience and urged any youth in need of assistance to "look her up" online. "I am your mother! I am your sister! I am whatever you want!" Riviera said. "My house — as long as I have a roof over my head — you have a home with me … Because I was once homeless … and I was once hungry … and I am homeless and hungry no more!"
As she wrapped her speech, Riviera drew loud cheers from the audience. "Shame on Trump! Protect trans youth!" the crowd chanted back.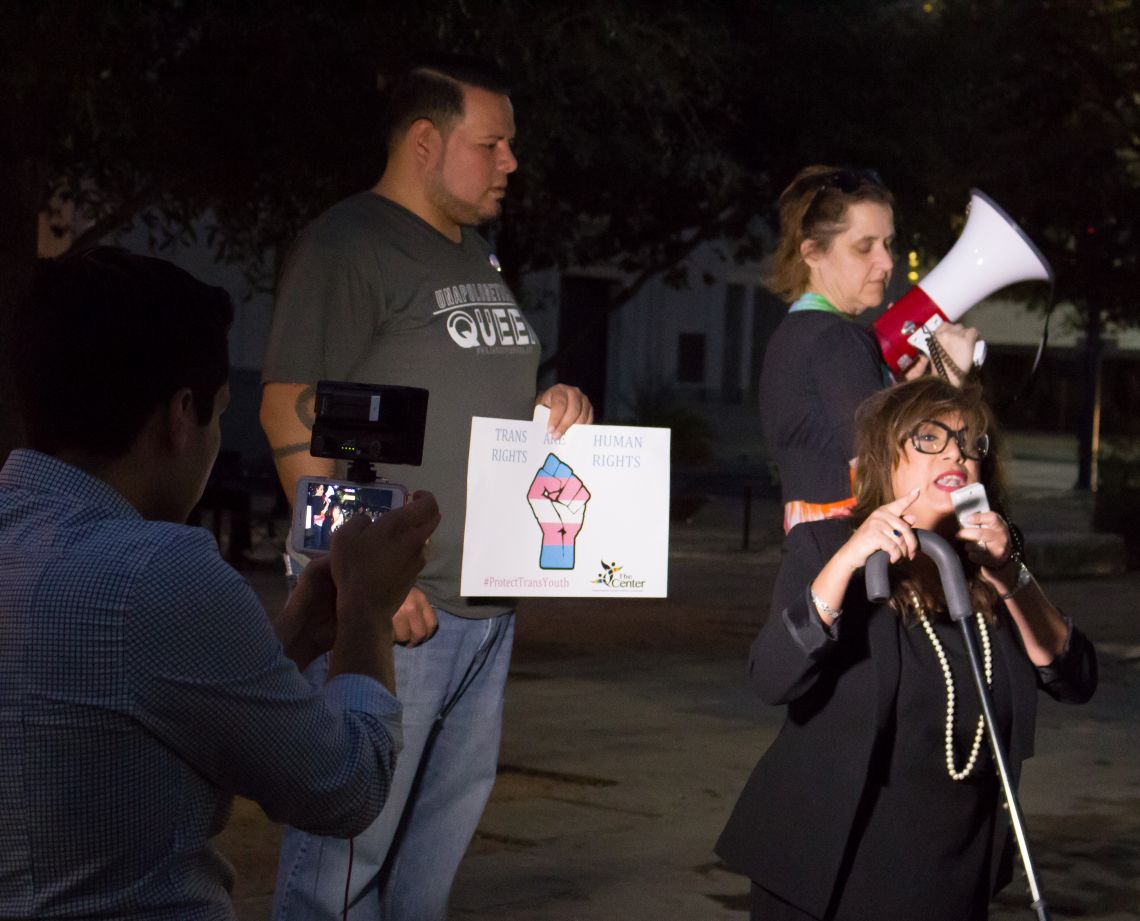 This was only one of several events this year that saw the beloved comedian standing up for the rights of transgender citizens. In March, she was among hundreds of people who traveled to the State Capitol and lobbied against Lieutenant Governor Dan Patrick's Senate Bill 6, aka "the bathroom bill." Her outspokenness has drawn the attention of local news outlets, several of which have interviewed the comedian and documented her many exploits.
"The phone never rang before … and now I'm being pulled in every direction," Riviera told Out In SA over the phone.
She reveals her true identity as being intersex (which the Intersex Society of North America defines as "a general term used for a variety of conditions in which a person is born with a reproductive or sexual anatomy that doesn't seem to fit the typical definitions of female or male"), but says she relates to the transgender community because she was raised as a boy from a young age before finally being allowed to live as a woman in her adult years. Born and raised in South Texas, Riviera was often abused by school administrators and local law enforcement because of who she was. She had a difficult relationship with her parents, who struggled with her identity but eventually came to accept her later in life.
In the early 1980s, Riviera got her start in stand-up — doing gigs at the De Zavala Comedy Club under the direction of her mentor, Tiny Mac. Billing herself as the "Mexican Joan Rivers," she then started performing her comedy act alongside local drag legends such as Jimmy James and Naomi Sims. For James, who is easily among the most celebrated drag performers to ever emerge from San Antonio, being an entertainer makes you a sort of ambassador for the LGBT community. "I hope that both of us, when we perform to straight people, that we are able to open minds once they see us," James told Out In SA. "Very much the way black performers going back to the '30s and '40s helped to open people's minds … I hope people can say 'What I thought about gay people is one thing, but maybe I shouldn't think that way.' We are able to spread a message without hitting them over the head with it."
Today, Riviera can still be seen performing at various nightclubs. In the past year, she enjoyed a stint at the SA Country Saloon, where she hosted a comedy show the first Saturday of every month. There, Riviera would bring together a diverse group of up-and-coming comics in an effort to groom the next generation of artists.
She says she sometimes worries about the lack of unity within the local LGBT community and urges individuals to come together and overcome their differences for the greater good of the community. But Riviera's biggest concerns go out to the transgender youth who are often left voiceless and without adequate resources. She wants them to know that they are not alone and that help is always available, whether it means reaching out to another adult or calling a suicide hotline.
"We can't give up hope for these children. If you're young and gay in this community, even if SB6 passes, they haven't cut our heads off," Riviera said. Through her work as a comedian, she hopes to educate the public and even encourage people to vote and help make a difference in their community.
"The biggest misunderstanding is that [transgender people] are not people and that when you cut us, we bleed a different color," Riviera said. "They dehumanize us … I'm speaking out because I'm a human being and I'm fighting for my rights."