There's some magic in Mexico City. You can almost sense the ghosts of Aztec warriors mingled with the faint aroma of tripas tacos and mezcal in the air. It breathes life into anyone lucky enough to visit. It had been five years since my last trip, and my heart ached with a desire to return to the place that somehow feels like home. I want to feel the nopal against my hands, the mean Mexican sun on my face, the earth of Coyoacán below my feet. I decided to bring my brother along on this trip, and he had a few simple requests: food, beer, lucha and ruins. For me, I just wanted Mexico: all of it, and as soon as possible.
As our plane descends into Benito Juárez International Airport, my heart swells with pain and joy at the confetti-colored sea of buildings on the ground below. The familiar hues of pink, yellow, blue and green greet me as I make my return to the city I've missed so dearly. Distrito Federal, or D.F., as it's more commonly known, is one of the most highly populated cities in the world, with more than 20 million inhabiting its borders. The city's density reflects in its infrastructure, with people, buildings and streets overflowing with life and spilling out onto each other. Sixteen boroughs and countless neighborhoods outline the city. Even on a long trip, there wouldn't be enough time to see and do everything. Still, there are plenty of options for us to choose from over the next three days.
We arrive at the Hotel del Principado in Zona Rosa, Mexico City's unofficial LGBT neighborhood, located in Colonia Cuauhtémoc. The hotel is inexpensive and clean, the staff are friendly and helpful, pointing us to a couple of places for good food nearby. Suggestions in tow, we head out to explore the neighborhood on foot and see where the air takes us. No sooner than we're out the door do we spot a street taco vendor on Avenida Londres. We stop and watch as the locals talk and drink bottled soda and the cooks prepare each taquito, not slowly, but deftly and with care. There's something relaxed and romantic about this place. No one is staring at their phone or eating on the go, and almost everyone makes eye contact with one another. For about 80 pesos ($5), we each have three small carne asada tacos drizzled in salsa verde and topped with cilantro, onion and lime.
We go in search of beer to help wash down our tacos and spot a place nearby with tables outside and stop to glance at the menu. The owners step out onto the sidewalk to greet us and invite us to sit down, promising us that the food is very good and the prices can't be beat. Their faces are sweet and kind, so we sit and order two micheladas — simply prepared with only beer and lots of lime. Looking up at the sign, I see that the restaurant is a family-owned business called La Marisquera, and that same family is seated at the table next to us, sipping on beer and wine and making conversation with us about our travels and what we plan to see. They encourage us to try some food; the pulpo (octopus) is their specialty, and they're certain we'll love it. But when we tell them we've already eaten, they dismiss our protestations, much like a loving tía or tío who wants to be sure you're healthy and full. Soon, we have shrimp taquitos and a large serving of pulpo in mole sauce in front of us. The evening carries on easily, and by the end of the meal we wish our new friends well and offer blessings to each other. I know I'll miss them more than they will me, and that's okay.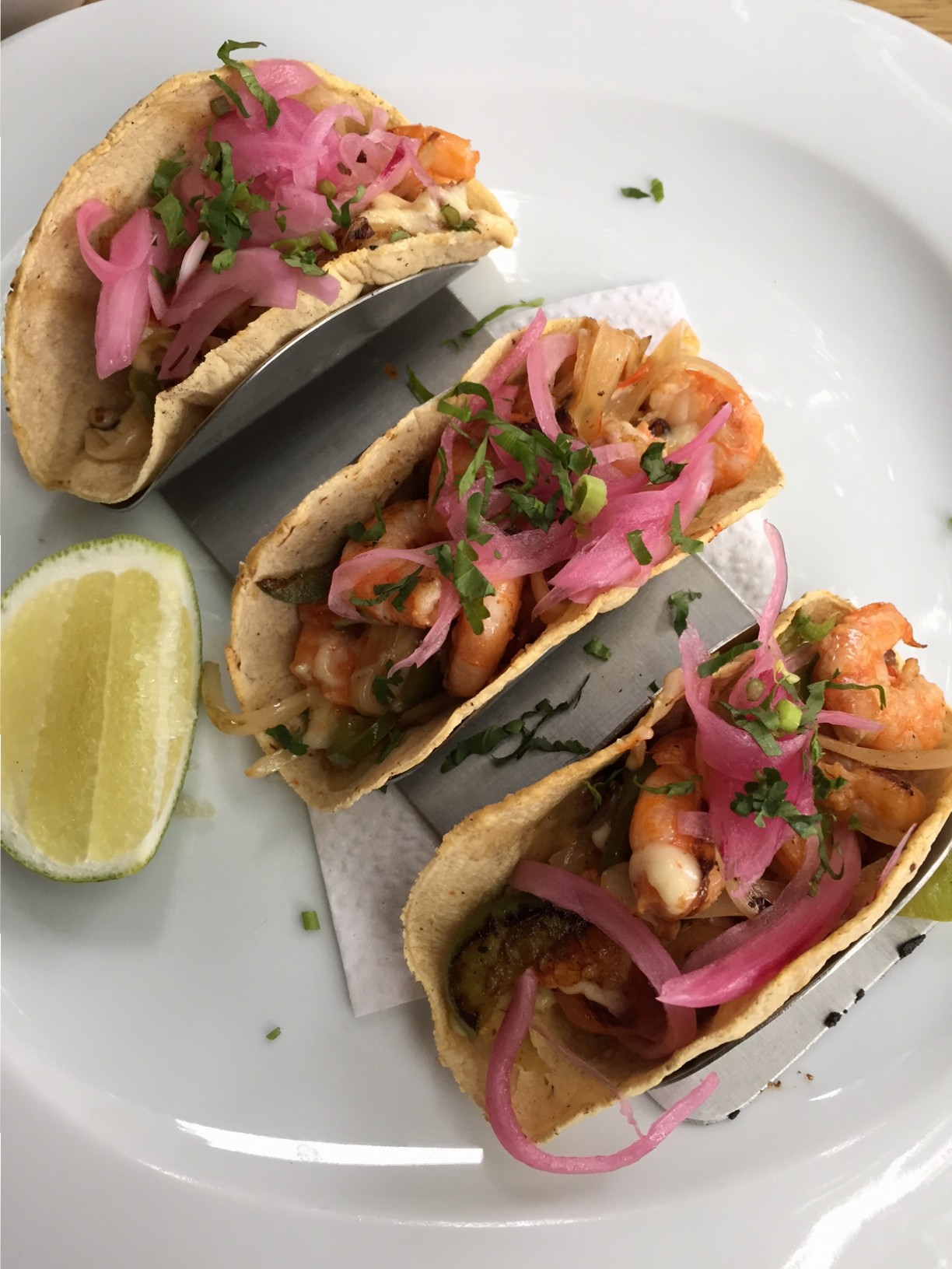 We hop into a cab in search of libations, ready to start a night of drinking and revelry. As in any metropolitan city, cabs are a fairly safe and efficient way to travel in D.F. After a quick drive, we end up at a bar called Pata Negra in nearby Condesa, an artsy neighborhood known for its restaurant scene, and talk about the next day's plans as we sip on cactus- and tequila-infused raspa cocktails.
The next morning, we're out the door by 8 a.m. to meet our tour guide, who picks us up outside our hotel and drives us out to the pyramids of Teotihuacán. Alvaro, our guide, works with Journeys Beyond the Surface, a tour company with great TripAdvisor reviews and reasonable rates. While it's not completely necessary to hire a tour guide as you explore, it often enhances the overall travel experience when you've got someone nearby who's knowledgeable about local culture, politics and history. The cost of our tour nearly evens out to the cost of gas, tolls and parking.
As we slip through the busy streets in our tiny hatchback, Alvaro points out local art, architecture and neighborhoods. We notice it's election time, and Alvaro explains the current state of politics, the economy, and the city's ongoing teacher strikes. "Traffic may be especially tricky today," he says. Teachers have been on strike for some time and are going to stage their final protest in the city center later this afternoon. I notice that police line the sidewalks, and Alvaro calmly mentions the teacher strikes sometimes become violent. He quickly changes the subject and asks if we'd like to stop off at the nearby Plaza de las Tres Culturas, the main square within the Tlatelolco neighborhood containing the remains of Aztec temples and site of the infamous massacre. Dozens of students and civilians were killed there by military and police on October 2, 1968, 10 days before the opening of the 1968 Summer Olympics in Mexico City. Alvaro tells us that the death toll has long since been debated, and as I turn to survey the Aztec ruins, I can't help but feel the weight of wars that have taken place on this land.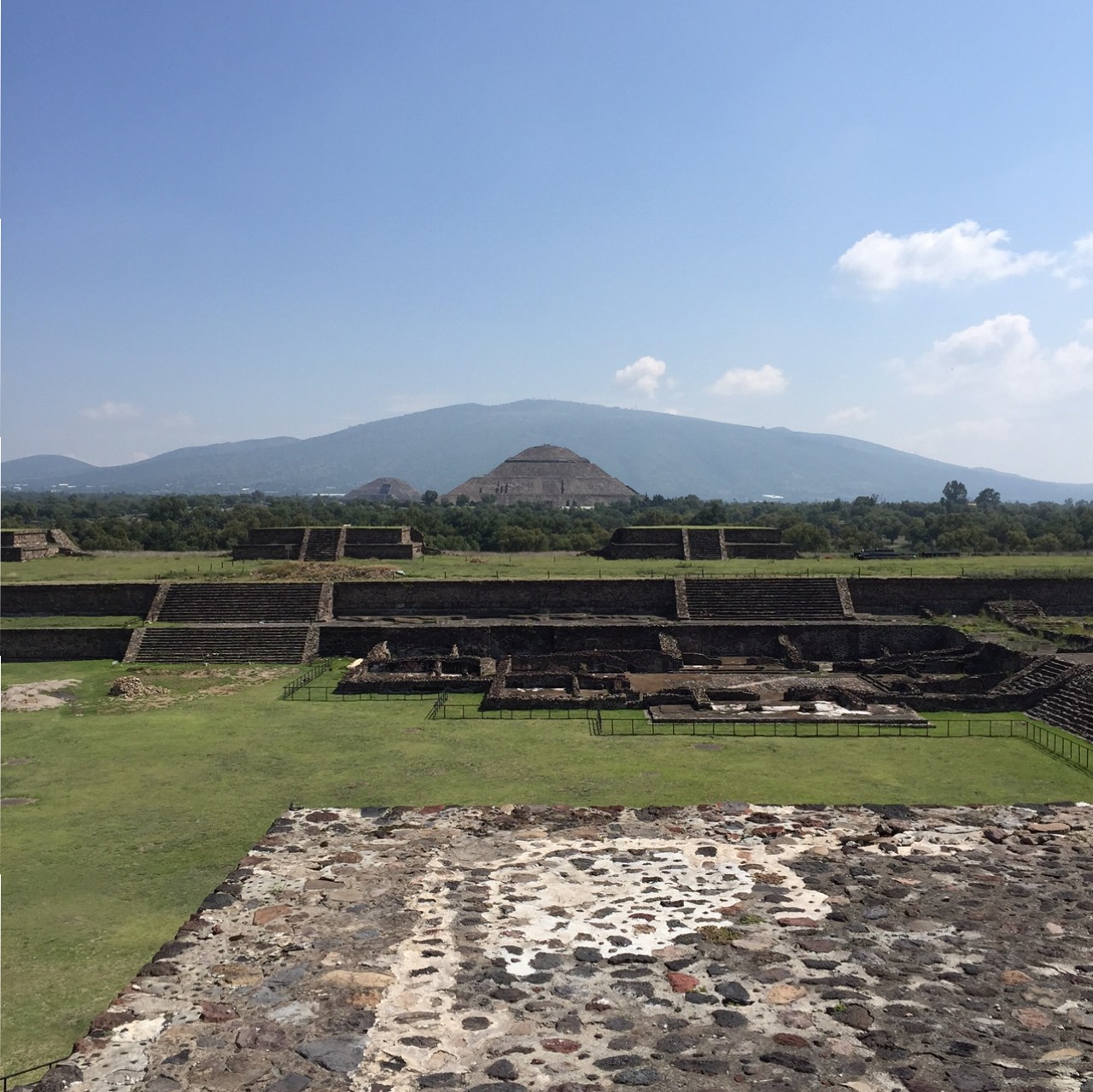 We finally arrive in Teotihuacán, and I see the pyramids in the distance. As we enter the visitors center, vendors call out to us, beckoning for us to stop at each of their shops, waving shirts, sunglasses, hats and toys at us, smiling even after we walk past them. While my brother listens as Alvaro details the Mesoamerican empires that thrived here, I make my way on to explore the Temple of the Feathered Serpent and cross over to the Avenue of the Dead, the city's central thoroughfare. The avenue is lined by stately architecture on both sides and pyramids at either end. I watch as men in cowboy hats assist with current excavation efforts, and I look closely at the walls that are still painted rusty red with Aztec symbols and imagery. I reach the peak of the Pyramid of the Sun, and as I examine the land around me, I think to myself, "These are my ancestors. These are my roots. This is my blood." My love of this place is real, and I grimace when Alvaro tells us we'll have to leave soon. We still need to stop for a late lunch, and he wants us to see the Basilica of Our Lady Guadalupe before heading to the arena later this evening.
Alvaro drives us to a local café called Mayahuel, which sits along the outer streets of Teotihuacán, and we toss back Coronas, chicharrón soup and molcajetes filled to the brim with queso fresco, cucumber, nopal, chicken and beef.
Bellies and hearts full, we head back into Mexico City proper and stop at the Basilica of Our Lady Guadalupe, a large ceremonial building which sits at the foot of the hill of Tepeyac, where Our Lady of Guadalupe is believed to have appeared to St. Juan Diego. On display inside the Basilica is what is believed to be the original rendering of the Virgen on Juan Diego's tilma, or cloak. My eyes gleam in amazement at the cloak, which is encased in a silver-and-gold-encrusted frame, and I pray in gratitude at the sight of it. Outside, a priest offers more prayers over the heads of a large crowd of people, and I walk over to bow my head alongside them. The priest lifts up the hisopo, the liturgical tool used to sprinkle holy water, and I feel the cool water land on my forehead, cheeks and shoulders. These rituals transcend borders, time and space, and I think of my ancestors, my grandparents and all the people who have experienced this act in the same way I just did.
After such a full day, we're ready for a fun night of lucha libre. Arena Mexico is a major venue for this attraction, and tonight we're going to see several luchadores fight. Mistico! Luciferno! Dragon Lee! Fuego! The names alone are reason enough to get excited for the show. Before we know it, we're five beers deep and having a great time watching the men (and women) dramatically throw themselves on, against and over each other. The audience has their favorites, and they're sure to let the fighters know their preference. A cool rockabilly couple next to us shouts out "pinche puto" to several wrestlers. When their toddler son joins in, his dad encourages it. At one point, a spectator throws a beer onto a fighter who comes close to the crowd. Security guards appear out of nowhere and pull him out of his seat and out the door.
The next day, we head to Coyoacán with Alvaro to visit the Museo Frida Kahlo, or Casa Azúl as it's more commonly known. Visitors by the hundreds line up daily to see the place where Kahlo lived, worked and loved. Everything from her paintbrushes to the back braces she wore are displayed. A twinge of guilt fills me as I look curiously upon her belongings: love notes from her husband, painter Diego Rivera, clothes, dishes. I offer my respects to her legacy and the artwork that lines the museum's walls, and I slink out of the building and watch as dozens more enter behind me.
From Coyoacán, we're on our way to an art market in San Ángel, where vendors sell blankets, leather goods, jewelry, paintings, and everything in between. The colors seem brighter today than they did yesterday, if that's even possible. I walk up toward a woman selling handmade Mexican dolls, their silky ribbons pouring out onto the sidewalk, and I smile as she hands one to me to hold. "Take it," she tells me in soft Spanish. I know she's not offering it to me for free, and I wish I could buy all of them from her. But I'm out of money and all I can offer her is a humble thank you before I have to leave.
High on my brother's wish list was to watch a soccer game at Estadio Azteca, the same venue where Mexican recording artist Vicente Fernández played a sold-out show to almost 100,000 people in 1999. Club América is playing Pachuca that night, and the rain that has begun to come down on us won't stop them. As we exit our cab, the driver tells us to be careful. If América loses, the fans may become incensed and forceful, depending on how badly they lose. Much like lucha the night before, there was no holding back when it comes to supporting fan favorites and heckling the rival team. "Puuuuutoooooooo!" the fans yell in unison at the Pachuca players. This is América's field, and they know it. As young men and women walked up and down the high inclines of the mud-soaked stadium selling ramen, burgers, pizza and huge cups of beer, I realized: This is the most fun I've ever had at a sporting event (sorry, Spurs).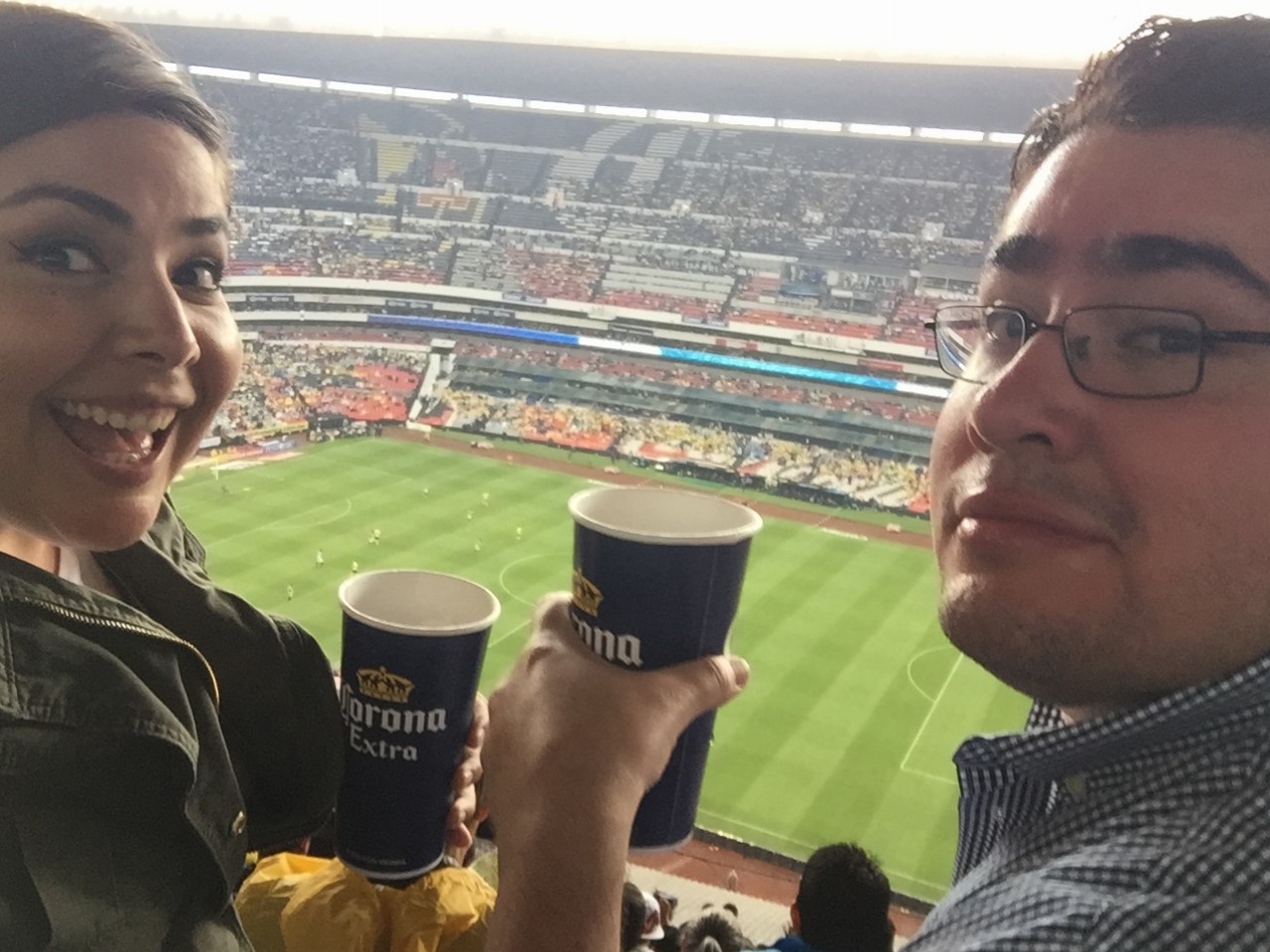 Between all the rain, yelling, singing and swearing, I sat back for a minute to think about how glad I was to be back in Mexico City, how thankful I was that a place like this exists. By no means are things easy in D.F., but they are different, and the people make it so. It's a place apart from the hard, American way of doing things — a place where you can bow your head in prayer one moment and shout out obscenities at a luchador the next. Maybe it'll be another five years before my next trip, but my heart will always be there, right where I left it.