Based on the best-selling book of the same title by Dan Anderson and Maggie Berman, Sex Tips for Straight Women from a Gay Man is a revealing and titillating look at sex and relationships from a gay man's perspective.
Coming to the Tobin Center as part of its Edge Series, the three-character play takes place in a university auditorium where the English department is holding its monthly "meet the authors" event. Robyn (the prudish straight moderator of the event) tries hard to lead a scholarly discussion but her efforts are derailed by Dan, a visiting author who presents an over-the-top sex tip seminar featuring a hunky (and shirtless) stage assistant named Stefan. The most important tip given here: Learn to open up and listen — then perhaps you'll achieve the hot sex life you've been looking for.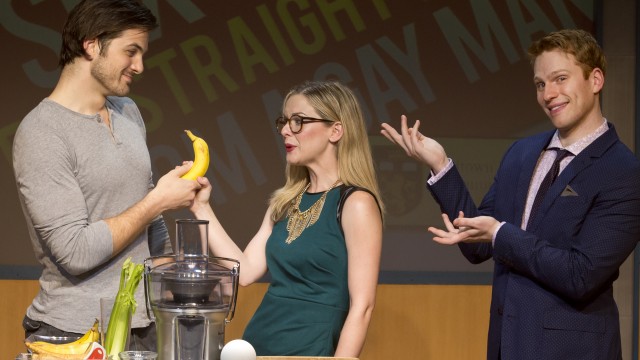 First published in 1997, the book championed the gay guy/straight girl dynamic later popularized in the mainstream by shows such as Will and Grace and Sex and the City. On a national tour since early 2015, the play has emerged as a modern cult classic and date-night favorite that attracts gay and straight audiences alike — not to mention its fair share of bachelorette parties.
Sex Tips for Straight Women from a Gay Man
$39.50, 7:30pm Thu, Mar. 17, 7pm & 10pm Fri, Mar. 18, 4pm & 8pm Sat, Mar. 19, Tobin Center for the Performing Arts, 100 Auditorium Circle, (210) 223-8624, 
tobincenter.org
.