When Austin Borjas-Ewell began taking ice skating lessons at the age of 10, his parents, Mario Borjas and David Ewell, never thought that within five years the young man would become a top competitor with the U.S. Figure Skating Association.
Now a 15-year-old sophomore at Churchill High School, Borjas-Ewell recently placed third in the Southwestern Regional Competition in Plano, Texas, a contest that brings together the best male skaters in the nine-state region.
Borjas-Ewell's ranking allows him to proceed to the next level, the Sectionals, which brings together skaters from 21 states on November 15 in Colorado Springs. In January, the top competitors in that contest will go on to the 2017 Prudential US Figure Skating National Championship in Kansas City.
According to the San Antonio Figure Skating Club, Borjas-Ewell is the first male skater from San Antonio to qualify for the Sectionals. This year, the club named him Skater of the Year. He is now only three levels away from becoming a top senior-level skater at the Olympian level.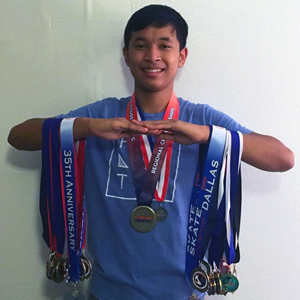 Borjas-Ewell's dads, who adopted him in Cambodia when he was six-months-old, say they are extremely proud of their son's achievements and hope he will one day qualify for Team USA and compete in the Olympics. The young man works hard at his sport, practicing 5 to 6 days at the ice rink and maintaining high academic grades.
In order to help Borjas-Ewell pursue his ice skating ambitions, his family has started a GoFundMe page to help defray the almost $25,000 annual cost of competing. "Figure skating at Austin's level is very expensive," says Ewell.  "There's the price of buying ice time, coaching, travel to competitions and equipment."
Ewell says that wherever his son places in the upcoming competitions, the boy will continue his skating regimen. "Figure skating is a year round sport. After Nationals in January, Austin will get right back to choreographing a new short and long program for the USFA qualifying events in 2017 and 2018."
Donations to Austin Borjas-Ewell's GoFundMe page can be made at this link. Donations can also be mailed to: Austin Borjas-Ewell, P.O. Box 700193, San Antonio, TX 78270-0193.