The San Antonio chapter of the Human Rights Campaign will honor Choco Gonzalez Meza posthumously with the Chuck Jordan Award for Lifetime Achievement at their annual Gala and Silent Auction on November 5.
Meza was a tireless activist for the Democratic Party and the lead of the Hillary Clinton presidential campaign in San Antonio when she died on October 9, 2016 after a short battle with cancer.
"Choco Gonzalez Meza is a treasure, a tremendous resource for San Antonio, a mover-shaker and a dedicated organizer for women, Latinos and an ally to the LGBT community," local attorney Maria Salazar wrote in a Facebook post after it was learned Meza was seriously ill.
Meza had a long and distinguished career in public service. During her lifetime, she was chair of the Bexar County Democratic Party, campaign manager and chief of staff for City Councilwoman Shirley Gonzales, senior vice president at the San Antonio Housing Authority, national research director for the Southwest Voter Registration Education Project, executive director of the YWCA, executive director of the Partnership for Hope, and worked for the Department of Housing and Urban Development during the Bill Clinton administration.
According to HRC, Meza's husband, Daniel S. Meza, and her daughter, Ivalis Gonzalez Meza, will accept the award.
In October, HRC announced that it will present restaurateur Dawn Lafreeda with the Equality Award, which is given annually to "an individual who works toward equality for all citizens of San Antonio."
Celebrities to attend gala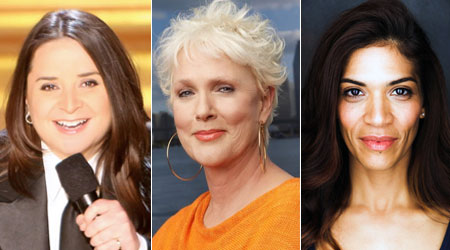 HRC has announced that comedienne Sandra Valls will be the emcee for the gala. Valls, a native of Laredo, Texas, who now lives in Los Angeles, has been featured in two Showtime specials, The Latin Divas of Comedy, and Pride: The Gay and Lesbian Comedy Slam. Curve Magazine has boasted that Valls is "one of the top badass comics to watch for."
Emmy and Golden Globe-winning actress Sharon Gless will attend as a special presenter. Gless is best known for her role on the 1980's television series Cagney and Lacey and for her five seasons on the Showtime series Queer as Folk. In 2013, Gless was the guest speaker at the annual Equality Texas Spirit of Texas Brunch.
Actress Laura Gomez from the Netflix series, Orange is the New Black, will be a special guest at the gala. Her career includes work as a voice-over artist, writer, and director. In the fall of 2012 she won the NYU Technisphere Award for her short film To Kill a Roach. Currently she is a member of Spanish Repertory Theater where she has appeared in critically acclaimed theatrical productions.
The 14th Annual Human Rights Campaign San Antonio Gala and Silent Auction, November 5, 2016 at the Grand Hyatt Hotel. General admission $195. VIP admission $245. Use this link for more information and to purchase tickets.