I have a confession to make, y'all. When I was finishing my undergraduate degree, I was offered an amazing opportunity for a full partnership in a little restaurant — total creative control and no financial investment necessary, just my kitchen prowess and my hard work. The space was available and the partnership was with an awesome friend.
I totally chickened out.
Because running a restaurant is hard work. And seriously risky. And I was afraid I didn't have the chops for it. Andrea Garcia, on the other hand? This chica totally went for the dream, and is kicking butt every day to make it all come true.
Garcia definitely won't argue about how hard her new job is. She has already managed one successful career, having been a teacher for more than a decade, most recently teaching pre-K. Managing a roomful of 22 3-year-olds? No sweat. Fifteen-hour days in the kitchen of her cozy cocina azul? Totally exhausting. But Garcia realized that all the ideas she had in her head weren't going to go away, so she decided it was time to go for it — no matter the outcome.
Garcia would have never tried such an endeavor without all the support she has received. Casa Azul de Andrea is a family business, top to bottom. Her wife Monica (who teaches third grade, then heads over to help out in the evenings) and brother-in-law are both involved in the day-to-day operations. None of them had any experience working in a restaurant, let alone managing one, but with each other as support, they have built a successful business.
It doesn't hurt that the food is amazing. When my boo and I grabbed dinner there we both took out a pile of street tacos (carne asada and pollo, respectively), but Garcia offers many vegetarian and vegan options for her plant-fueled customers. And according to Yelpers, her mole fries are the pinnacle of food-dom. The menu at Casa Azul de Andrea is simple but exciting; classic flavors with new twists make for a solid meal without breaking the bank. Add a full bar and a shaded patio, and you have a perfect outing.
Opening in Southtown wasn't a deliberate business move in the way one might think. Garcia wasn't intentionally seeking out a hip neighborhood. Southtown has been her home for 20-plus years, a place where she has always felt a deep sense of belonging and acceptance. Establishing a restaurant there meant opening a family business in her own backyard.
But since Southtown boasts such a thriving arts scene, incorporating art into the space was a no-brainer. Theming the restaurant around Frida Kahlo was also a given, especially once you learn what the iconic Mexican artist means to Garcia. During college, she visited Mexico City during Día de los Muertos. Images of Frida Kahlo and Diego Rivera were everywhere, and she had the opportunity to see many of their works and learn more about their lives. Frida soon became Garcia's touchstone as the definition of a strong woman.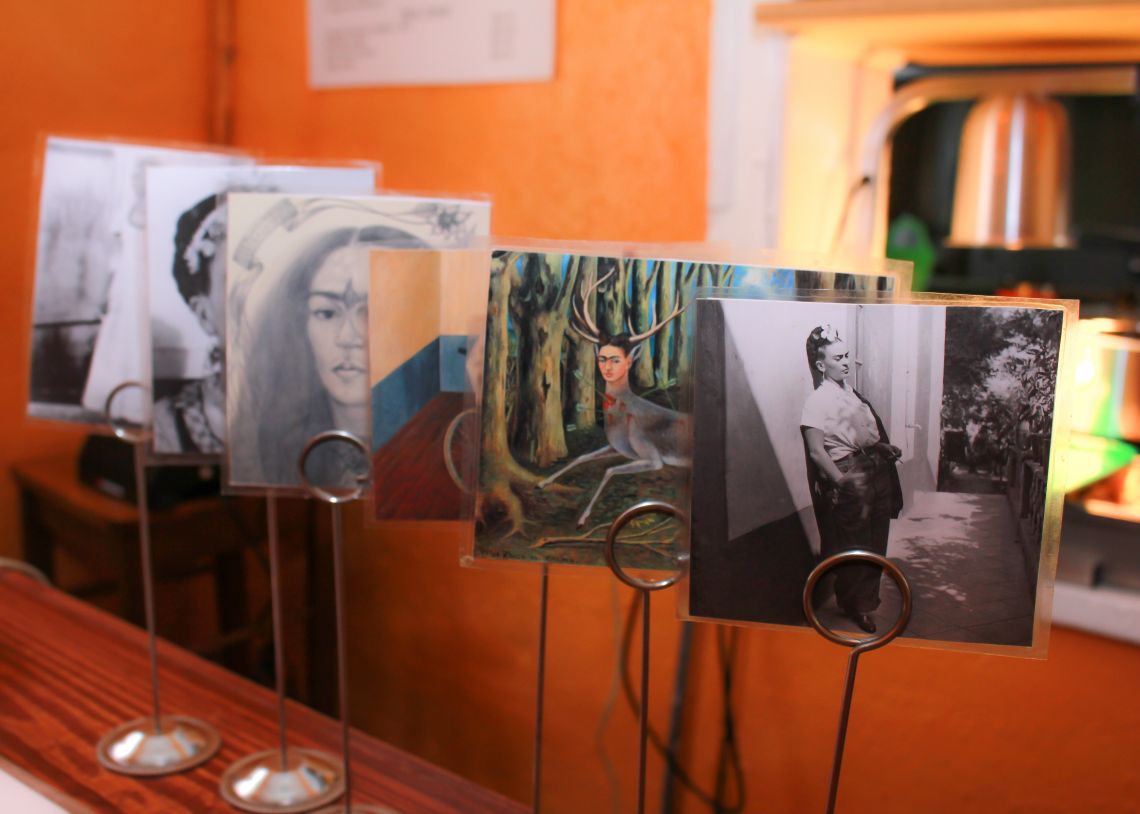 It was on that same trip that Garcia really got to explore the street foods of Mexico — which helped spark the simple but delicious menu at her Southtown restaurant. Combining these experiences when opening Casa Azul de Andrea made intuitive sense. The Frida theme has allowed Garcia to celebrate a well-known and beloved artist while showcasing local artists who depict Frida in their work.
In keeping with the theme, the restaurant hosts monthly painting classes in which local artist Alejandra Garrity leads attendees in the creation of a Frida-inspired original. Up next? Garcia is partnering with Cristina Martinez of VeryThat to plan a birthday party for Frida. Details will be up on the website, Instagram and social media channels soon. Something tells us Frida would approve, sitting under the shade tree with an agua fresca and watching Southtown stroll by.
Casa Azul de Andrea
1036 S. Alamo St., (210) 451-9393
casaazuldeandrea.com