When San Antonio photographer Antonia Padilla decided to go through her archives late last year, she discovered negatives and contact sheets which contained images of pop singer Selena's 1993 concert in Brownsville, Texas.
At the time the photos were taken, Padilla was a photographer for the Brownsville Herald where she often was assigned to cover Latino musical acts which were a staple of the entertainment scene in the border town.
Padilla worked at the Herald for 15 years before moving to San Antonio. In the time since then, her work has been featured in the San Antonio Express-News, Scene In SA, the San Antonio Current and QSanAntonio.
She's also exhibited her photos in numerous gallery shows including at the La Pena Gallery, Southwest School of Art, AP Art Lab and the Esperanza Peace and Justice Center She is currently an artist-in-residence at the Lone Star Art Space.
On May 17, Padilla will be part of an LGBT group show titled "We Are" at Culture Commons Gallery.
In 1993, Selena, dubbed the "Queen of Tejano" music, was at the top of her game as an internationally renown singer who that year won a Grammy Award for her album Selena Live! Two short years later, the singer would be murdered by the president of her fan club who was found to have been embezzling money.
Selena's popularity has soared in the 23 years since her death. In her hometown of Corpus Christi, there is now an annual music festival, Fiesta de la Flor, which celebrates her life and music. Demand for Selena memorabilia is at an all time high as evidenced by a recent run on H-E-B grocery stores in South Texas where shopping bags with the singer's image sold out minutes after they went on sale.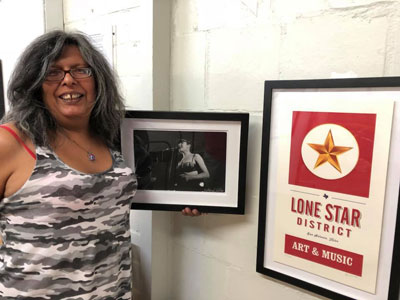 Padilla told Out In SA that after close examination of the contact sheets, she found almost a dozen images which she felt had the artistic and technical quality needed to make them attractive to collectors. In the weeks that followed she sold several prints to individual buyers.
Recently, Padilla selected one iconic image from her Selena collection and did a run of 200 prints of the single image. Those signed prints are now on sale for $50 at her studio at the Lone Star Art Space. Buyers who would like to purchase other photos from the series can look over the selection from the contact sheet and special order them.
To purchase Selena prints, contact Antonia Padilla at Lone Star Art Space, 107 Lone Star Blvd. By appointment only — 210-685-2420.