Curious Twins Paranormal, which bills itself as San Antonio's gay-owned, historic paranormal investigative and tour company, will be hosting a pop-up exhibit that might best be viewed on an empty stomach.
"Death Eaters: A Gruesome History of Medical Cannibalism" will be presented on May 18 at Brick at Blue Star as part of the Spirit Speak ARTfest, a monthly "night of unique gothic and spiritual art, entertainment, and psychic readers."
The description of the "Death Eaters" exhibit may cause digestive distress: "From the consumption of mummies to drinking the blood of the executed, the pop-up exhibit explores 500 years of socially acceptable cases of human consumption as forms of medicine and longevity."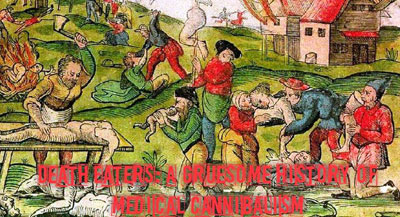 The show includes a seance room and an opportunity to take part in a late night ghost-hunting experience in the neighboring King William Historic District.
While cannibalism may not be to everyone's taste, Curious Twins also conducts weekly walking tours that focus on other topics like "Spirits, Murderers & Prostitutes of San Antonio" and "Spirits of the Alamo & El Rio de San Antonio."
Curious Twins is owned by "paranormal power couple" Fred Garza-Guzman and his husband, Stephen Garza-Guzman. Fred has been awarded a 5-Star certification of Mastery in Ghost Hunting by the Intuitive Arts Institute which qualifies him to conduct spiritual cleansings and psychic readings.
According to the Curious Twins' website, the couple was "brought together by our mutual love and respect for all things spooky. Stephen is a horror film enthusiast and Fred is a psychic medium with deep interests in the paranormal."
"We have traveled the nation in search of paranormal experiences," the couple says, "[and] we want to share these experiences with those around us at home."
"Death Eaters: A Gruesome History of Medical Cannibalism," a pop-up exhibition at Spirit Speak ARTfest, Friday, May 18 from 7 p.m. to 11 p.m. at Brick at Blue Star Arts Complex, 108 Blue Star. Free and open to the public. Donations accepted. Check out the Curious Twins website to book a walking tour or psychic reading.