It was always a dream of actor Chaz Bono to star in the hit FX Network anthology American Horror Story. A fan of the series since season one debuted in 2011, Bono, transgender activist and son of singer/actress Cher and the late singer/politician Sonny Bono, wanted to take his promising acting career to the next level.
After he starred as a hoarder/junkie in the 2016 independent film Dirty, Bono visualized somehow getting the footage of that performance to AHS creator Ryan Murphy. He thought if Murphy saw him playing an unusual character like the one in Dirty, he would give him a shot in an upcoming season of AHS.
Although it took a couple of years to get his tapes to Murphy, Bono's plan worked and he was cast in the show's sixth season, American Horror Story: Roanoke, as Brian Wells, an actor who portrays an inbred cannibal for a made-for-TV documentary.
Bono was then invited back for season seven, American Horror Story: Cult. In the current season, which wrapped up November 14, Bono plays Gary Longstreet, a grocery store cashier, Trump supporter and cult member who is kidnapped early in the season and forced to cut off his own hand so that he can make it to the polls to vote for Trump. Spoiler alert: Gary doesn't make it to the final episode of the show. In Episode 10, he is disemboweled outside an abortion clinic.
Bono, 48, recently spoke to Out In SA about his role on the show, his decision not to play trans characters, and which horror film director he hopes to work with in the future.
American Horror Story, of course, is known for bringing actors back to play different roles when a new season comes around. When they asked you back for season seven, was there any role you would've said no to?
I would've been happy to do anything. The only thing I don't do at this point in my career is play trans characters. That's the only thing that would be really difficult for me to do. But they knew that. When I found out they were bringing me back I was thrilled. It sounded like a lot of fun and challenging and different, so I was excited.
Talk about your decision not to play trans characters at this point in your career. Could that change in the future?
I consider myself a character actor. That's what I love about acting — to disappear into a character who is very different from myself. That's the type of career I would like to have. I would never want to get pigeonholed into playing trans characters, so I've just stayed away from that. In the future, if a trans character came up that was an amazing character, I would have to think about it at that point. But at this point, it's not something I want to do.
Speaking of characters who are different than you in real life, Gary seems to fit the bill. Is that what was most interesting about the role?
Actually, of all the characters I've played in my career, Gary is probably, in a lot of ways, the closest to me — at least he was at the beginning. I mean, [in season seven] I look like myself and sound like myself and wasn't hiding behind any kind of makeup. At the beginning, I wanted to portray him as a regular guy — a white, working-class guy, not some horrific person or monster or anything like that. I wanted people to get to know him like that so his transformation [into a cult member] would have an impact. The character was a lot more subtle than what I did in Roanoke. I got that from the page, but I also wanted it to be bold.
Have you heard from any Trump supporters about the role?[Laughs] I haven't specifically heard from Trump supporters. Nobody has identified themselves to me as a Trump supporter. There's a lot of people who really like Gary a lot, so I'm going to guess they voted for Trump. But I haven't had anybody specifically say to me, "Hey, I'm a Trump supporter and I think your portrayal of Gary is really good."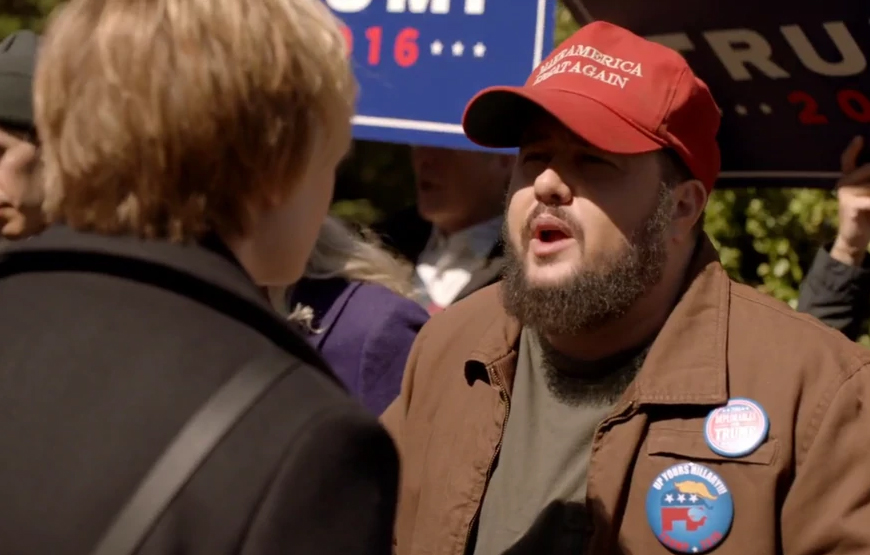 What did your mom think about you playing a Trump supporter since everyone knows she's not fan of his?
She thought it sounded great. We talked about it a lot. I always like to document everything with pictures and stuff, so once I started working on the show, I had a lot of cool, behind-the-scenes pictures to show her. She's been so supportive of my acting career from the beginning, even when I was doing smaller stuff here in LA. So, she was really excited.
AHS has been renewed through 2019. What is it about the show that has kept it on TV for so long?
American Horror Story has depth to it. There's isn't anything like it on TV. When it came along, it was this weird, crazy, interesting show with great actors. I think that's why fans of the show love it so much. As an actor, I love working on it because there isn't another show where I would get to do this kind of stuff. I get to work with such talented actors and such a phenomenal crew. In both seasons, I've spent a lot of time around the makeup trailer. What those guys are able to do with makeup is just insane. When I was a kid, I was into all of those old, classic horror movies like Frankenstein and The Wolf Man. I thought maybe I wanted to do monster makeup when I got older.
Is there anyone in the horror genre you'd like to work with in the future? Do you like more classic horror or are you into the gory kind of stuff?
Blood doesn't freak me out and it doesn't draw me in. For me, it's always about interesting stories. I loved [filmmaker Rob Zombie's 2016 film] 31. I never saw a lot of Rob Zombie's stuff before, but I watched that movie and I just loved. I wanted to play every one of the bad guys. Even the victims were good. The concept of it was just weird.
Is he someone you're going to send your footage to next?
I've actually told my manager several times to please get my stuff to him. I know he's a little controversial, but 31 is great.
How do you feel about non-trans actors playing trans roles? Actor Jeffrey Tambor always gets accolades for his role in Transparent. How do you feel about roles like that?
On one hand, seeing somebody transition can make sense and be appropriate, but I think it's time that we get away from this idea of men playing trans women. I think it gives people the wrong idea. I don't think people have a good idea of what a trans person really is or what a trans person looks like. On the other hand, I know that I don't want to be stuck playing trans parts. If I wasn't trans, I probably would love to play a trans person because it would give me the opportunity to play something different. As an actor, I have a totally different feeling about it than I do as a trans activist. I can see both sides.