A short documentary that premiered in March at the South by Southwest Film Festival tells the emotional story of a young Texan who is transitioning from female to male, with mixed reactions from his family.
The 13-minute film, "Becoming Blair," is a truly personal effort by director Bri Barsalou, the cousin of Blair Hanner, the documentary's protagonist. The two grew up together in New Braunfels, Texas.
"When Blair came out to the family, it wasn't as shocking to me as it was to others," Barsalou told the Daily Texan. "I wanted to give Blair a platform to be heard and crossed my fingers that I'd be able to do him justice."
Barsalou's film was first produced as a student project for an advanced documentary class at the University of Texas at Austin.
As depicted in the documentary, Hanner's transition is a painful one for him and his "Catholic, conservative, Republican" family, especially his mother.
In her scenes, Hanner's mom weeps as she goes through family albums looking at photographs of him as a child, admitting she has a problem with using the pronouns "him" and "he" in reference to her son.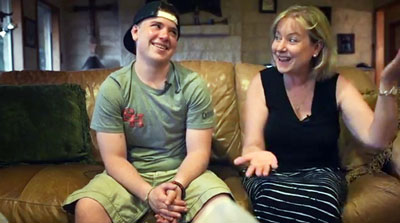 "I was raised to be that little princess, that little girl. I was a tomboy, and that was OK . . . to an extent. I trained myself to become the little girl they wanted me to be," Hanner says in the film. Finally as an adult, he came out to his mom and the rest of his family.
"Humans are messy and complicated, and I couldn't have asked for two better subjects to portray such an intense yet beautiful relationship between a mother and her child," Barsalou told the Daily Texan.