It's that time of year when pumpkin spice invades the food chain and when zombies and skeletons hit the streets in celebration of Halloween and Dia de los Muertos. In San Antonio, we can choose from parties, stage productions and art shows to observe the three-day cycle. Below is a list of events for celebrating the spooky holidays.
October 1 – October 29, 2016
The Rocky Horror Show: 360° Theatrical Experience
The classic version of The Rocky Horror Show Live is back in an all new 360° theatrical experience produced and directed by Jonathan Pennington at Alamo City's Roxie Theatre, 7460 Callaghan Rd. Use this link for tickets and showtimes.
October 7 – October 31, 2016
Evil Dead: The Musical Comedy Spoof
This musical effectively combines Evil Dead and Evil Dead 2: Dead by Dawn into a two act, blood flying, chainsaw swinging, musical extravaganza. At Alamo City's Roxie Theatre, 7460 Callaghan Rd. Use this link for tickets and showtimes.
October 22, 2016
Pride SA Rainboo 5k Run at Woodlawn Lake Park
Scary Fairy RainBoo 5K Run is a family oriented event with age group awards and a costume contest. Contest awards will be given to the funniest, scariest, best group and best overall costumes. The fun begins at 5 p.m. at Woodlawn Lake Park, 1103 Cincinnati. Use this link to register.
October 23, 2016
Pride Families Fall Festival & Trunk-Or-Treat
All families are welcome to join Pride Families for food, costume contests, lots of candy and community fellowship. This free event is a celebration of diverse families and is coordinated by several area LGBT organizations working together to celebrate the diversity of our city. At 1 p.m. at Westfall Branch Public Library, 6111 Rosedale Ct. Use this link to RSVP.
October 25 – 29, 2016
The Rocky Horror Show
Sassy Entertainment and Rey Lopez Entertainment present The Rocky Horror Show directed by Greg Hinojosa featuring starlets from RuPaul's Drag Race including Latrice Royale, Ginger Minj, and Phi Phi O'Hara. At the Josephine Theatre, 339 W. Josephine. Five performances only. For tickets and showtimes call (210) 734-4646.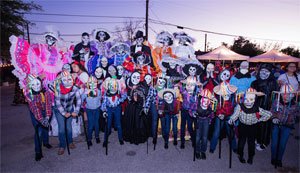 October 30, 2016
Dia De Los Muertos at Galería Guadalupe
Participate in art-making workshops, face painting, a peace and remembrance procession, and visit community altars while enjoying pan de muerto y chocolate. Performances include the Guadalupe Dance Company & Academy, Grupo Animo Barrio Writers Youth Writing Group, and the Guadalupe Mariachi Academy. At the Galería Guadalupe, 723 Brazos St. Use this link for complete information. (Photo by Edward Benavides)
October 31 – November 4, 2016
Día de los Muertos Community Ofrenda Viewing
Check out the Esperanza Peace and Justice Center's community altar exhibit. Viewing will be from Monday, Oct. 31 to Friday, Nov. 4 from 10 a.m. to 7 p.m. at the Rinconcito de Esperanza, 816 S. Colorado. Bring your friends and family to celebrate your deceased loved ones. There will be a sneak peak of the exhibit on Sunday Oct. 30 from 5 p.m. to 8 p.m. Click here for more information.
October 31, 2016
Nightmare on Main Street: Zombie Outbreak
Sparky's, Heat Nightclub and Knockout present the annual Nightmare on Main Street Halloween Block Party. Live music, vendors and a $1000 costume contest. On the 1400 block of Main Street from 8 p.m. to 2 a.m.
November 1, 2016
Celebrando Dia de los Muertos
A one-hour lecture demonstration featuring members of the Guadalupe Dance Company presenting the traditional dances, costumes and music of Mexico and Spain. The lively performance gives audiences the opportunity to interact with the dancers while emphasizing the cultural value of traditional Folkloric and Flamenco dance. Audiences will have the opportunity to interact with the dancers, participate in a question and answer session and join in a mini dance class. At the Guadalupe Cultural Arts Center,  723 Brazos St., at 10 a.m. Use this link for information.
November 5, 2016
The San Antonio Dia de los Muertos S&M Ball
One of the biggest and popular Day of the Dead events in San Antonio. The evening features a raunchy stage show with a Dia de los Muertos theme. The $35 general admission ticket gets you food and beer. BYOB. Admission limited to 21 and over. Bring your tipping dollars. The event benefits local church food pantries and scholarships. The fun begins at 6 p.m. at the Guadalupe Theater, 1300 Guadalupe St. Call 210-324-2662 for tickets. Pick up a t-shirt for $20 at Rene Roberts Hair Studio, 2214 N. Zarzamora. Check out the event page for more info.