Activists from seven different community organizations are planning to picket Texas Governor Greg Abbott during his "Broken But Unbowed Texas Book Tour" in McAllen, Texas on May 26.
Aquí Estamos, the Texas Freedom Network, South Texans for Reproductive Justice, Curando RGV, Valley AIDS Council, PFLAG Harlingen, and Call To Action RGV will participate in the demonstration.
According to a press release, the organizations will be protesting Abbott's support of North Carolina's House Bill 2 which forbids transgender and gender non-conforming people from using public restrooms which match their gender identity.
Additionally, on May 25, Attorney General Ken Paxton announced Texas was joining ten other states in filing a lawsuit against the Obama administration's directive instructing schools to let transgender students use the restrooms where they feel most comfortable.
"We will be protesting against Greg Abbott because he has continuously worked to restrict and undermine the rights and liberties of Texans," Texas Freedom Network organizer Ruben Garza said in a statement. "He has become a vocal opponent of legislation and ordinances that protect the rights and liberties of the LGBTQ community. Greg Abbott is a roadblock in the path to justice, liberty, and progress. Texas deserves better leadership, and he must go!"
"South Texans for Reproductive Justice understands LGBT rights, immigrant rights and reproductive rights are all inherently closely linked but especially in the wake of harmful legislation around the nation. Texas Governor Greg Abbott is notorious for undermining the rights of innocent, marginalized communities under the guise of protecting family values," said Sofia Pena, an organizer for the group.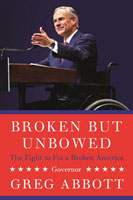 Activists will gather in front of R Communications in McAllen, where Abbott will be signing copies of his book, Broken But Unbowed – The Fight to Fix a Broken America. Abbott's book tour will take him to Corpus Christi and Victoria on May 27.
R Communications is the largest radio operator on the Texas-Mexico border. It has four stations in the Rio Grande Valley: La Ley 102.5; Digital 101.5; KURV 710 Talk Radio; and Super Tejano 102.1. The company also has offices in Laredo and San Antonio.
Organizers say the protest will be followed by a short presentation which will highlight the lives of those who have been affected "because of the hate Greg Abbott is spreading."
Protest against Gov. Greg Abbott, Thursday, May 26, 2016 at 3 p.m. outside of R Communications, 1201 N. Jackson Rd. in McAllen, Texas.