The Pastie Pops, who bill themselves as "San Antonio's premier burlesque and variety troupe," are celebrating Pride Month with their newest production, The Big Gay Burlesque Show, which takes the stage at the Aztec Theater on June 28.
This the the fourth year the Pastie Pops mount a gay show for Pride. In announcing this year's edition, producers say, "The Big Gay Burlesque Show is a fabulous spectacle created by, for, and about the queer community. This show aims to provide a safe and supportive space for audiences of all gender identities, sexual orientations and expressions. So come on out and show us your pride!"
Pastie Pops' troupe of bump-and-grinders has been at it for over seven years, spotlighting burlesque, boylesque and drag performances at their bi-monthly shows. They've also developed a large following, enough for them to have been voted the Best Burlesque Troupe in the San Antonio Current 2017 Best of SA issue.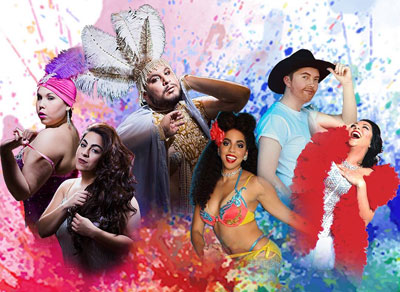 The Big Gay Burlesque Show will feature the talents of the Pastie Pop's San Antonio performers Jasper St. James, Lucy Lips, Elle Du Jour, Mary Annette, Vixy Van Hellen, and Mustang Ryder. They will be joined by Aurora Hart from Austin, JD Hickcock from Houston, and Nox Falls from Amarillo. Additional performers will be announced later this week. Emcee for the show will be Camille Toe.
The Pastie Pops' Big Gay Burlesque Show is being underwritten by The Sexology Institute which offers sex coaching, relationship coaching and counseling, sex-positive educational events and a retail boutique.
The Pastie Pops present "The Big Gay Burlesque Show," Thursday, June 28 at 8 p.m. at the Aztec Theatre, 104 N St. Mary's St. Doors open at 7 p.m. Tickets $25 – $50 available at theaztectheatre.com.
Note: The Pastie Pops "Big Gay Burlesque Show" was originally scheduled for June 30. All tickets already purchased for the event will be honored for the new date of Thursday, June 28. Ticket holders can contact The Aztec Theatre box office at 210-812-4355 for refunds or issues with the schedule change.